Picnic in the Storm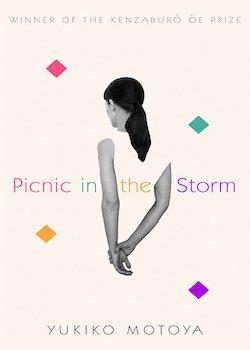 By Motoya Yukiko

Corsair (2019)
ISBN-13: 978-1472154347
Review by Beau Waycott

---
Motoya Yukiko's Picnic in the Storm is a collection of short stories examining the wide range of issues Japan faces in its continuing mission to remain amongst the world's superpowers. Far from being illogical or overly ambitious, the collection succeeds in its representation of such a plethora of ideas through Motoya's expertly crafted unities: loneliness, a loss of identity and, above all else, disturbing and engrossing surrealism.
The collection centres around the novella-length 'An Exotic Marriage', which won Motoya the Akutagawa Prize in 2016. The protagonist, San, is ignored by her older husband, and we join her as she develops anxiety over their marital problems that manifest themselves not just emotionally but physically: on her husband's face she begins to see a monster, then a snake, then a mountain peony and then, most worryingly of all, herself.
Alongside her native Edogawa Ranpo, Motoya's other childhood reads included Agatha Christie and Arthur Conan Doyle, and this lifelong love for suspense and mystery has translated itself into commanding yet subtle enigmas throughout the collection. Accomplished enough to avoid circumlocution, Motoya's positioning of the reader is subtle yet wholly effective, with the dramatic and engrossing wrestle of San to reclaim her personality and the reader prompted to consider how people lose themselves to mundanity and repetition. On a deeper level, the almost Kafkaesque surrealism of the work draws a startling juxtaposition to the encouraged conformity of Japanese society, much like the shorter ending story 'The Straw Husband', which also explores how even the most normal characters and activities can become alien.
Unlike the subtler themes of 'An Exotic Marriage' and 'Straw Husband', Motoya also makes unashamedly clear criticisms of modern Japanese society. The most obviously feminist narrative of the book, 'Q&A', avoids any sense of cliché in its satire of consumerism and gender roles, whilst the anime-esque ultraviolence of 'How to Burden the Girl' is a blazen pastiche of the hyper-conservative attitudes towards women often found in anime and manga, exports which undoubtedly inform a large proportion of the world's perception of the country. Indeed, Motoya herself began to read horror manga as a child, and we can hear clear anger voiced throughout the collection at the fettering stereotypes often found within the genre.
The collection finds one unity in its motif of thoughtless and moodless men, who usually appear under the guise of husbands, with dominances that seem unbelievable to the point of absurdity in almost all of the texts. Far from being a shortcoming of Motoya's writing, this is the very crux of her purpose: throughout, we see relationships as a forerunner to a loss of identity, not just loneliness but a far deeper lack of connection that the female protagonists find from themselves. The women certainly don't lack license in their narration or thoughts, but there are clear yearnings to exist as something they simply can't be. Here, once these women venture outside of their long-established domesticity, the quiet elegance of Yoneda Asa's translation really shines. The unwavering certainties of description are what allow Motoya's surrealism credit in such domestic tales, whilst Yoneda also continues her skill,first pioneered in her Yoshimoto Banana translations which included culturally-relevant examples of the original Japanese onomatopoeia often lost in translation. Much like in Yoneda's Yoshimoto translations, these flashes of sound lend a synaesthesic and gripping aura to the writing that compliments perfectly the tone she allows Motoya.
Above all else, this collection firmly marks Motoya as a name to watch for in the current literary market, where Japanese in translation is finding a much deserved rejuvenation. A celebrated and prolific playwright and theatre director as well as novelist, whose works have been adapted for film on numerous occasions, it is likely we will be seeing a great deal more of Motoya's variety within the English canon very soon, something I am sure any reader of Picnic in the Storm will celebrate.