The Penguin Book of Japanese Short Stories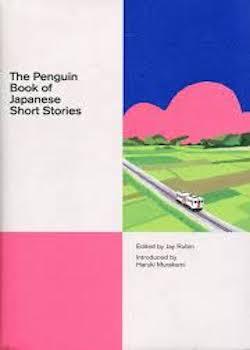 Edited Penguin Classics, 2018
ISBN-13: 978-0141395623
Review by Jill Dobson

---
In the two decades since the publication of The Oxford Book of Japanese Short Stories (1997), Japanese literature in English, a miniscule subset of the whole, has been transformed not only in quantity but in the kinds of writing – and writers – made available in translation. Beyond the blockbusting Murakami Haruki (an international phenomenon rather than a mere author), writers such as Ogawa Yoko, Kirino Natsuo, Kawakami Hiromi and the author of the recent hit Konbini ningen (Convenience Store Woman), Murata Sayaka, are being published by small independents or mainstream literary imprints. While Japan's economic might has flatlined in the last two decades, its cultural 'soft power' has grown, and Japanese literature in translation is no longer dominated by the postwar 'holy trinity' of Tanizaki, Mishima and Kawabata.
English-language publishers may be accused of looking for the next Murakami or Kawakami, someone who fits the 'quirky' image Western readers may have of Japanese writers. The compiler of The Penguin Book of Japanese Short Stories, Murakami's long-standing translator Jay Rubin, was allowed free rein in his selection, which was only limited by the availability of copyright, and this diverse and fascinating collection of 34 stories is free from any compulsory marketable 'quirkiness'. Unusually, the collection is ordered by theme – e.g., 'Japan and the West', 'Men and Women', 'Dread' – rather than chronologically, leading to some startling and stimulating juxtapositions: Akutagawa's classic story, the horrifying 'Hell Screen' (1918), rubs up against Sawanishi Yuten's frankly bizarre 'Filling up with Sugar' (2013).
In 'Japan and the West', Rubin includes Tanizaki's novella 'The Story of Tomoda and Matsunaga', the tale of a man who is so torn between a cosmopolitan, Western city life of sherry, steak and foreign prostitutes, and his provincial life with a traditionally refined Japanese wife, that he alternates between two physically distinctive personas. This captures the cultural dislocation of the Meiji and Taisho periods, when the breakneck modernisation imposed by the state threw Japanese identity into turmoil. This is also the theme of Natsume Soseki's work, represented here by an excerpt from Sanshiro, his gentle tale of a provincial youth heading up Tokyo to study and being overwhelmed by the 'modern' sophistication of women, starting with one he meets on the train, who makes him an offer he is too innocent or gormless to take up.
In the section 'Loyal Warriors', Mishima Yukio's 'Patriotism' provides a chilling insight into the mindset of a couple for whom joint suicide is both a duty and the ultimate consummation of their passion. It is impossible to read the unflinching details without thinking of Mishima's actual suicide ten years later, and to wonder if his own suicide lived up to his vivid, ecstatic imaginings.
Interestingly, the section 'Men and Women' includes five women writers and only one man, Nakagami Kenji. Did Rubin not think any male writer had anything noteworthy to say about women (surely not) or does he simply not categorise writing by men in the same way? Kono Taeko's short 'In the Box' relates an instance of microaggression between two women in a lift; men don't come into it. In the same section, Tsushima Yuko's 'Flames' is a subtle evocation of a single mother's uncertainty as she waits, with increasing ambivalence, for her absent husband to sign the divorce papers, her state of mind mirrored by the number of deaths she notices around her. Her sense of self is restored one night as she and her small daughter watch a conflagration. Tsushima's reputation is undergoing a revival in the Anglosphere, thanks to the efforts of her long-time translator, Geraldine Harcourt. In Yoshimoto Banana's 'Bee Honey', another woman on the brink of divorce goes to Buenos Aires, an unfamiliar city where she does not speak the language, to nurse her confusion and sorrow. Witnessing a procession by the mothers of the disappeared, she reflects on her own mother back in Tokyo, and her perspective shifts. Ohba Minako's 'The Smile of a Mountain Witch' is a retelling of the Japanese folk story of the yamanba (briefly a youth fashion trend as well) from the point of view of the mountain witch who has chosen to suppress her nature and live among humans, providing a devastating commentary on what society expects of women – complete submission – along with the suggestion that all women are potentially or secretly yamanba.
The first story in 'Nature and Memory', Abe Akira's 'Peaches', starts with a man's clear, treasured memory of himself as a boy, walking with his mother one night with a pram-load of peaches. He has never questioned this memory until his sudden awareness of one clashing detail – peaches in winter? – calls into question the entire incident, and thereby his certainties about his family and himself, summed up by the final, unsettling image of the man as a boy, wheeling his infant self in the pram.
Ogawa Yoko's quiet, elegant and disturbing fiction has established itself in English translation. The latest addition, 'The Tale of the House of Physics', is an unsettling and densely atmospheric tale of a transient connection between a little boy and a vagrant woman living in an abandoned research institute. Amid the luxuriant and rotting overgrowth of its grounds, a group of boys find freedom to play without boundaries. The woman brags to them that she used to be a writer, and they mock her. One day, finally daring to enter the building on his own, the narrator discovers that the woman has fallen ill from eating mushrooms that have grown from the ground where the boys buried a dead weasel. Feeling guilty, the boy brings soup to the woman. As she recovers, he writes down the story she is muttering to herself: a fantastic story of an atomic particle journeying through the universe, entirely alone. The boy presents her with a clean copy, bound in a cardboard cover. When she disappears from the house, and is forgotten, the book disappears with her. The whole story is framed as the reminiscence of a retired editor, thinking back over all the authors whose work he has midwifed. He accounts The Tale of the House of Physics as the first book he edited. His transition from heartless little boy to someone capable of sympathy and service, his main attributes as an editor, may have come about through his encounter with the nameless woman, although such an obvious inference seems too crude for Ogawa's subtle fiction.
Japan's unique experience of atomic warfare is represented by two stories, one by Nagasaki author Seirai Yuichi. 'Insects', first published in the collection Ground Zero, Nagasaki, describes the long-term physical and spiritual destruction wrought on the city's Christian community. The narrator Mitsuko, an elderly Christian woman, is looking back on her life. At 15, she lost her parents and all four siblings in the blast. Amid the awful aftermath, only insects seem to survive and even flourish, starting with the 'bright green grasshopper' who crawls up Mitsuko's mutilated leg in the opening scene. Disfigured, Mitsuko only feels comfortable around others whose lives have been blighted, like her colleagues at the printing factory where she works. The exception is Sasaki, a former soldier whose health and vigour awakens her desire. Her injuries make her unmarriageable, although another colleague, Ozaki, whose face has been shattered, seems to appeal to her sympathy: 'There were two types of people now: those whose lives had been affected by the bomb and those who hadn't suffered.' Predictably, Sasaki marries Reiko, a cheerful younger woman seemingly untouched by war or deprivation. Mitsuko nurses her jealousy and infatuation for years, while Reiko treats her as a friend, possibly out of pity. But Mitsuko has a secret: on one trip back to Nagasaki, the now middle-aged Sasaki forces himself upon her. She welcomes the encounter, her only sexual experience. It turns out that the apparently devout Sasaki does not believe in God: his faith was destroyed by the bomb and he regards people as no better than insects. He mocks Mitsuko for believing she survived by the grace of God: 'We're like your insects … God doesn't keep an eye out for every insect that's born or dies …What makes you think people are any better than bugs?' Like Mitsuko, he has been permanently ruined by the bomb, but invisibly so. Mitsuko is sustained in her old age by the memory of their single encounter and by the secret knowledge she has of Sasaki's true nature – that of a godless insect – which she considers revealing to Reiko in a final, triumphant letter. The story ends by returning to the first image of the large grasshopper mounting the injured young Mitsuko as she lies in the rubble.
A review of anthology of 34 very different short stories is necessarily selective; another reviewer would have made other choices. In his introduction, Murakami Haruki compares the collection to the New Year's fukubukuro (lucky bag) sold by Japanese department stores. A reader prepared for the new and unexpected will not be disappointed.