Origami Soundscapes / The Crane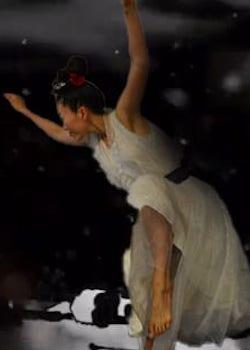 Review by Alice Baldock

---
Tucked into a side street that feels like it is in the south of France The Arcola Theatre, aims to make art, especially art that many wouldn't think they would be able to get a glimpse of, more accessible. Studio two, a basement performance space carefully littered with bowls and water basins decorated with neon kanji and kana – 和和和、おみずおみずおみず that teetered on the edge of invoking 'cool Japan', is a fitting locale for Origami Soundscapes/ The Crane. This is a combination of art forms that may well be the first of its kind. It forms part of the Arcola's Grimeborn 2019 festival, a project to bring new operas, and new renditions of old ones to new audiences. This is an important endeavour in a world where the popularity of opera, and the stigma surrounding it, are up for debate. Origami Soundscapes/ The Crane is a key contributor to this. It brings music traditions from other parts of the world – as the producer, Verity Lane, brings musical inspirations she encountered after ten years living in Japan to London. But by combining them with other art forms the audience is softly, gently, tugged into other, somewhat stuffier artforms.
The show is split into two separate but cleverly connected performances. The first, Origami Soundscapes: Flower, Bird, Wind & Moon is a large-scale origami performance, surrounded by other multi-media performances. The second, The Crane, is a noh-inspired operatic rendition of folktale Tsuru no Ongaeshi, in which a crane is rescued and returns a favour to its rescuer. Throughout the performance audiences are bombarded with music, dance, song, shakuhachi, paper-folding, poetry, and animation. The concept itself is extremely impressive, an attempt to truly explore one theme through many, many artistic mediums.
Such roving ambition yields mixed results; some elements were breath-taking, whilst others left you stuttering confusedly. In the dance performance by The Crane, one didn't quite know if the sometimes-awkward movements were part of an attempt to show a being trapped, birdlike, or if the choreography just didn't quite flow. In Origami Soundscapes, the finale, where Coco Sato skilfully folded a giant origami crane whilst sound and poetry flowed over her, felt overlong. Despite the breadth of skill on display, at times it felt that there was too much going on. This was especially true of the first act, where without the spine of a folktale to prop it up as in The Crane, it could be difficult to know where to look.
Part of the accessibility element of Grimeborn and the piece itself is that both Japanese and English-speaking audiences could comprehend the lyrics. In The Crane, therefore, each lyric was sung by a Japanese, and then an English-speaking performer, without surtitles. This was a wonderful way for audiences to experience the feeling behind the sung lyrics, whichever language they spoke. The problem with this is that each lyric had to be sung twice, so those who understood both languages felt like they were seeing the same thing twice, and those who understood one of them spent half the time waiting. Yet, this artistic choice also made room for some ingenious manipulation of language. The singers, Hester Dart and Tomoko Komura, switched between languages as they sung, the lyrics playfully twining and untwining.
Percussionist Beibei Wang gave the most outstanding performance of the piece. At one point she spurred the audience into spontaneous, mid-performance applause as the Chorus encircled her holding drums, and she span, hitting each of them precisely. Even as she spun, even as she had to backbend to reach the drums behind her, she did not miss a strike. Her playing, accompanied by the flickering, ambient animation by Rowan O'Brien, would have been a show in itself.
The piece certainly pushed boundaries over what we consider performance, how we can communicate art across languages, and how we can combine art forms to tell one story. Future works by Verity Lane are sure to continue to explore these boundaries.