Noriko Smiling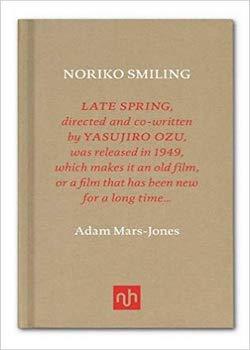 By Adam Mars-Jones
Notting Hill Editions (2011)
ISBN-13: 978-1907903458
Review by Laurence Green

---
This pocket-sized volume focusing exclusively on Ozu Yasujiro's 1949 masterpiece Late Spring (Banshun) is rather quaintly subtitled 'It's the quiet ones you have to watch', but the truth is, this is a loud – almost overconfident – book, and is unashamed about it.
Those familiar with Late Spring will know that the film's essential plot is simplistic in the extreme – almost minimalist, one could say. We follow Noriko (played so memorably by the iconic Hara Setsuko), at the age of twenty-seven, still living with her widowed father. She faces constant pressure from those around her to marry, but all she wants from life is to continue her duties as a devotional daughter – and thus the film's central dramatic tension is set. Will she, or won't she, end up getting hitched?
Over the course of around 240 pages, writer Adam Mars-Jones sets to examining Late Spring with a fine-toothed comb, offering a surprisingly frank, and often humorous take on the film's narrative and themes. Those used to the quiet, composed subtlety of Ozu's cinema might find this tone jarring at first; Mars-Jones places himself and his personal viewing experience very much at the centre of proceedings here – so much so that he almost seems to supplant Noriko herself at times.
The feel is much like author Peter Carey's classic Wrong About Japan, and it has to be said, Mars-Jones background as the Independent's film critic from 1986-1997 puts him in good stead to offer what quickly becomes an energised dismantling of previously unassailed Japanese Studies scholarship in favour of journalistic storytelling. Donald Richie is quickly dismissed with the withering sobriquet: 'rather inconsistent critic'.
In this sense, Adam-Mars approach to a classic of Japanese cinema is refreshing – unburdened by decades of scholarly baggage and cultural "knowledge" of how writing about Japan "should be done". As he puts it rather neatly himself; 'being Japanese is not a state with a single dimension'. And so too, there are many ways to approach an esteemed director and their work, both of which have been covered countless times before. Another pointed line from Mars-Jones suggests: 'Masterpieces are not fragile but robust. They can stand up go more than a reverent dusting'.
And yet, while the opening scene-setting and critique of the film's historical context makes for a punchy start, the following scene-by-scene close-reading quickly becomes overbearingly dull – like a pulpy novelisation of the film itself, complete with transcribed dialogue and timestamps. Without Ozu's accompanying visuals, much of the magic is undoubtedly lost – as such, it is highly advisable to have watched (or re-watched) Late Spring immediately prior to reading Noriko Smiling so that it remains as fresh in the mind as possible. When the book hits its mark, it is entertaining and undoubtedly witty, but one can't help but wish there had been more here about the star behind the "Noriko Smile" – those looking for insights into Hara Setsuko's enigmatic life on and off the camera will unfortunately find little new or insightful here.
Mars-Jones is clearly a strong writer, and an experienced voice when it comes to film analysis, but it's hard to tell if the book fits its self-proclaimed status as long form essay, or if it's more at home as a high-calibre piece of fan-ish adoration. Lines like 'Is it just me, or is it odd to keep a visitor waiting while you brush your teeth and discuss your journey?' feel like they would have been better suited to a supplementary audio-commentary track to a DVD edition of Late Spring. In print, they just feel unnecessarily trite.
The book reaches its introspective nadir when Mars-Jones ponders: 'Am I being sucked into the vortex of over-interpretation? Occupational disease of the critic'. It feels as if he has lost touch with the subject matter, treading water in an attempt to keep the words coming – so ironically unlike the long pregnant pauses Ozu himself favoured. The analysis becomes skin-deep, constantly and infuriatingly pre-faced with disclaimers like 'I can't help feeling that…' or 'I'm not claiming any actual knowledge of…'. The ever-present 'I' looms larger than ever over the narrative here – an author and book in love with themselves. It is only in the last 50 pages that we return again to a more general analysis of Late Spring's core themes. But by this point it's too little, too late, and the book never again delivers the sharpness and clarity of its early passages.
Noriko Smiling is a valiant attempt to capture what makes Ozu's cinema so enchanting. Yet, despite initial promise and some keen analysis in the book's opening sections, it soon descends into a dull, repetitive replay of the film's events – a mere imitation wilting in the shadow cast by the original. While this tastefully presented and lovingly cloth-bound volume will no doubt make a fine gift for fans of Ozu, the writing is as likely to infuriate as it does entertain.