Life for Sale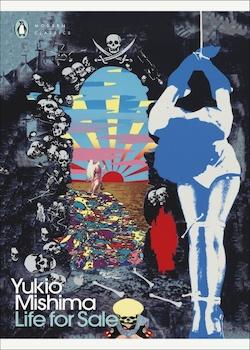 By Mishima Yukio
Translated by Stephen Dodd.
Penguin Classics (2019)
ISBN-13: 978-0241333143
Review by Susan Meehan

---
In 1967, 42-year-old Mishima Yukio formed a private militia which he named the Tatenokai ("Shield Society"), and swore to protect the emperor of Japan. In 1970, he went as far as trying to organise a coup to restore the power of the emperor. Mishima failed spectacularly, and went on to commit seppuku then and there. He had meticulously planned his suicide for about a year.
In 1968, a couple of years before his death, Mishima's Life for Sale was serialised in Playboy Japan. As with much of Mishima's work it dwells on death, suicide and the emptiness of existence yet is also light, fizzing with humour and surreal goings-on.
The protagonist, Hanio Yamada, is a young, handsome and successful copywriter working for Tokyo Ad. He wakes up one morning startled to have survived a suicide attempt even though it was done on a 'complete whim', as if 'planning a picnic.'
Unlike Kafka's Gregor Samsa, an exhausted travelling salesman who wakes up one morning in the form of a large vermin or cockroach, the words and letters Hanio tries to decipher as he reads the newspaper one morning turn into cockroaches before his very eyes. He concludes that the world boils down to nothing more than this. Both Gregor and Hanio appear weary of life.
Having failed to commit suicide, 'a wonderfully free and empty world opened up before him' as Hanio makes a complete break from the daily grind, immediately resigning from Tokyo Ad. He then places an ad in the newspaper:
'Life for sale. Use me as you wish. I am a twenty-seven year old male. Discretion guaranteed. Will cause no bother at all.'
It does not take long for Hanio to be in demand. He lurches from case to case as an assassin or detective-for-hire. He becomes involved with characters including shady mobsters, infatuated women and a vampire, and somehow rather charismatically bumbles through. Prepared as he is to be killed, he turns out to be rather adept at evading death, often leaving demise and bafflement in his wake.
Full of wild escapades, the novel also contains saucy passages which I imagine were a concession to the Playboy readers. They are comical and unsophisticated …a bit like the Carry On films.
In hospital after an anaemic episode courtesy of his vampiric lover, the nurse looking after Hanio rolls up the hem of skirt 'to reveal white garters around the tops of her white stockings and above that, her fleshy thighs …' A startled Hanio exclaims: 'Wow! Is that what they meant when they said you get a good view in this hospital?'
As Hanio is getting ready to leave hospital, the nurse asks: 'So, are you getting your strength back?' By way of reply, 'Hanio took the nurse by her arms and pulled her onto the bed'. I laughed aloud.
Having concluded his assignments and escaped with his life intact, it dawns on Hanio that, having been exposed to the danger of death, he no longer wants to die.
On the run, it is not long before he is kidnapped by villains as the series of picaresque adventures come to a climax and ends are tied up. He has never before clung on to life with such ferocity…
A welcome addition to the English language translations of Yukio Mishima's work in the lead-up to the fiftieth anniversary of his death and deftly translated by Stephen Dodd, it is an exuberant if patchily saucy read and reveals a different angle to Mishima.