Japanese Larder: Bringing Japanese Ingredients into Your Everyday Cooking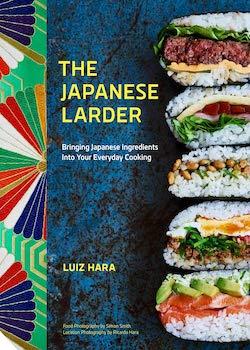 Jacqui Small (2019)
ISBN-13: 978-1911127628
Review by Laura Richardson

---
The Japanese Larder: Bringing Japanese Ingredients into Your Everyday Cooking is the second cookbook by London-based Le Cordon-Bleu trained chef and founder of The London Foodie blog, Luiz Hara. Hara specialises not only in Japanese cooking but also in the so-called "Nikkei cuisine", a hybrid of Japanese and Peruvian cooking created by Japanese migrants to South America in around the 1900's. Peru has the second highest population of Japanese residents in South America, second only to Brazil, and the impact the community has had can be felt all over. The influence on food in particular is hugely significant and since the arrival of the Japanese and the introduction of Nikkei cuisine, fish has become a staple ingredient in the Peruvian diet. Beyond South America, the popularity of Nikkei Cuisine is now flourishing throughout Europe (one very good example of this is Indo Kitchen in Stockholm).
Alongside Nikkei cuisine, the growth in popularity of Japanese food in general does not appear to be slowing down. What were once little known ingredients, things such as miso, tofu, mirin and rice vinegar, can now be spotted on the shelves of many of our well known supermarkets. So, it's no wonder that so many of us, having picked up something to use in a specific recipe, find barely used bottles and packets of ingredients sitting in the back of our store cupboard months later with no idea of what to do with them next. The Japanese Larder can help with that as it goes beyond being simply a recipe book and rather is an informative introduction to a wide and varied range of those Japanese ingredients. It is designed to enlighten budding home cooks on the many and sometimes unexpected ways in which traditional Japanese ingredients can be used.
The Japanese Larder is divided into seven chapters. Chapter one begins with key Japanese seasonings: soy sauce, miso, dashi broth, sake, mirin and rice vinegar. This comprehensive introduction helps to provide the reader with a deeper understanding of each ingredient, allowing them to go on to try and recreate some of the recipes featured throughout the remainder of the chapter. Recipes like Mackerel in Soy and Balsamic Glaze (using soy sauce) and Slow-Braised Pork Belly (using miso and sake).
Through the following chapters we are introduced to Ferments, Spices and Condiments, Rice, Noodles and Tofu, Fruit and Vegetables, Beverages and finally Sauces and Marinades. Each chapter features recipes using the ingredients detailed, a break from the usual 'starter, main, dessert' format that we may be used to seeing.
Alongside relatively well known dishes like the ever popular katsu curry and traditional recipes like Oyakodon (simmered chicken and egg over rice, literally translated as "parent and child donburi"), Buta no Kakuni (braised pork belly) or Soboro Gohan (minced chicken and egg on rice), Hara introduces the reader to his own creative recipes in which he cleverly combines Japanese ingredients with more familiar flavours like parmesan cheese in his Udon Noodles, Truffle Butter and Parmesan, Marmite Chicken and Salmon cured with maple syrup. These combinations may seem surprising to some but this creative approach is sure to encourage the reader to be more experimental with their cooking. The result is recipes that will appeal not only to connoisseurs of Japanese food who are seeking something new but also to anyone who has never tried Japanese food before and perhaps for one reason or another were a little afraid to do so.
The Japanese Larder also explores Japanese food traditions, one example of this being tsukemono (Japanese preserved vegetables), a staple in the Japanese diet usually eaten as a side dish. Recently fermented foods have become a huge phenomenon with health food specialists in the West too. It is said that increasing our intake of the probiotics contained in ferments improves our gut health, which in turn is believed to improve both our mental as well as physical health. This makes tsukemono and fermented food an apt addition to the book.
Something that certainly sets The Japanese Larder apart from other Japanese cookbooks is Hara's instructions for making your own ingredients like tofu and udon noodles. This is perhaps not something that many readers will have considered trying before. Accompanied by step by step photographs, the instructions are easy to follow, surprisingly simple, and may even prove to be more cost effective than buying premade packaged items. Intentionally or not, this encouragement to create more of what we are eating from scratch is another trend that Hara has tapped into.
The book itself is striking with its silk fabric binding and is filled with beautifully shot photographs complimenting every recipe. It is then finished off nicely with snapshots taken around Japan, offering us a little glimpse into Hara's travels. The star of the front cover is the Onigirazu. A particularly fun recipe to try, Onigirazu can only be described as a cross between an Onigiri (Japanese rice ball) and a sandwich. It is made by layering a sheet of rice with a number of fillings, like avocado, salmon, egg or even slightly more unconventional options like cheese and pickle. This is then topped with another layer of rice and wrapped tightly in nori (seaweed) creating a sandwich effect.
The Japanese Larder helps to expel the myth that Japanese food is complicated to make and brings a range of new and exciting dishes to your dining table. As well as the recipes on offer, I am sure it will also inspire readers to go on to try and create their own dishes, combining ingredients they may have never considered using before.