Japanese Tales of Lafcadio Hearn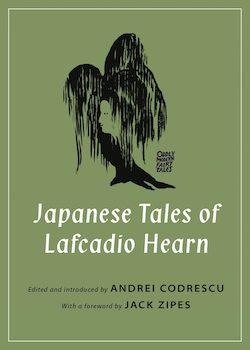 By Lafcadio Hearn
Edited by Andrei Codrescu
Princeton University Press (2019)
ISBN-13: 978-0691167756
Review by Azmina Sohail
---
Japanese Tales of Lafcadio Hearn is a great example of how literature has evolved and should continue to evolve in every sense of the word; in representation, theme and language.
In order to appreciate or even understand this collection of folk tales, you must detach yourself from your present reality and open yourself up to a world not just of fantasy but of ancient mythological history where Shinto traditions, mysticism and anthropomorphism are very much alive.
Lafcadio Hearn, also known by his Japanese name Koizumi Yakumo, was of Greek and Irish descent but moved to Japan during the nineteenth century after emigrating to the US and the West Indies where he worked as a newspaper reporter and a teacher. It was in Japan that he found a real sense of belonging and soon married a Japanese woman, became a Buddhist and had a family, spending the remainder of his life there.
Before embarking on this collection, it's important to note that Japan during the nineteenth century was still considered an exotic and somewhat unchartered place for the Western traveller and subsequently subject to voyeuristic observations by writers. Hearn seems to play into this notion by writing in the genre of fantasy, but upon further analysis it's clear that, with his amalgamation of Japanese language, ancient Shinto traditions and folklore, his appreciation for Japan is an extension of his identity. The stories often centre on a single traveller (usually a farmer, priest or samurai) and his encounters with supernatural forces; nature that has come to life, wondering sprites or the spirits of deceased and disturbed women. It is these supposed "good" people of the world that come into contact and often succumb to the strange forces of evil. Women play a significant role in these stories and it is this representation that I want to pay particular attention to.
In Western literature, feminist ideals were not known until the late nineteenth century, until then women were notably depicted as flat subjects admired for their sensitivity and physicality. Despite embracing an Eastern lifestyle, Hearn's descriptions remain similar to these Western narratives. In 'The Screen-Maiden' a young scholar falls madly in love with a painting of a young girl who he describes as 'so delicious a creature' who he would gladly give his life to. In 'The Corpse-Rider,' a deceased woman who died from grief after a divorce 'would have been useless to bury… because the last undying wish of a dying person for vengeance can burst asunder any tomb.' Instead the husband is instructed to 'astride her', grabbing her hair and twisting it until morning in order to save himself from her vengeance. In another story, women are described as 'mystical gods who serve the lusts of men only to withdraw at the last minute' and save them from the 'perils of their illusion.' It seems writing within the fantasy genre has given Hearn leeway for representing women in such a manner. Instead of submissive governesses, wives of farmers or clueless daughters, he presents women from the perspective of the "flaneur" in that that they become dangerous, seductive and fantastical beings. It is this idea that begs the need for evolution.
As the stories progress, they become evidently darker and more disturbing, preparing readers for the unexpected. But amid all the fantasy, time travel and illusion, there are flashes of morality carefully woven in. In one tale, Hearn states that 'by drinking too deeply of life we do not become young.' A noted universal truth in that no matter how much we engage in worldly pleasure, we cannot fulfil our true desires; a clear intimation of Hearn's interest in the afterlife.
Buddhism is a constant theme in each tale. The fundamentals of Buddha's teaching is the practice of morality in order to escape rebirth and the attainment of Nirvana. Hearn writes in a way that serves as a reminder to not only respect these beliefs but consider them as a part of reality. The fact that his characters are everyday people, who are on a quest for happiness in the physical world but find meaning in the supernatural, suggests that true Japanese culture is rooted in religion; a noble message for contemporary society. Japan's increasing fascination with technology, wealth and fast-living is worldly pleasure. The publication of these tales has possibly come at a good time. It suggests that in order to achieve true happiness we must look to the old ways and the teachings of the past. It suggests that the current life we are living is possibly an illusion designed for mankind. By seeking knowledge and achieving true morality we can control our future and what may lay in store for us after death.
As a writer, Lafcadio Hearn uses language beautifully in both his characters and imagery whilst paralleling nineteenth century Western themes. His eloquence surpasses these themes and allows us to reflect on the language and representation contemporary writers use today. This collection of fantasy tales is essentially a snapshot of a time passed, but a strong reminder of how the world and literature is changing in sometimes wonderful and sometimes strange ways.