Music Kyogen Scrooge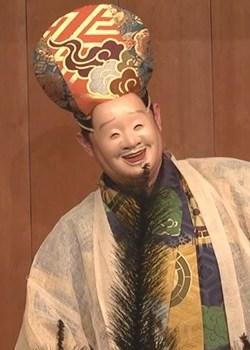 (Sukuru-ji Ongaku-Kyogen)
With
Oxford Playhouse
(27 November 2019)
Review by Alice Baldock

---
A story so established it has become almost archetypal, Dicken's A Christmas Carol once again swept across Europe this November. It is the tale of the supposedly transformational power of a season, the forced introspection of one man which causes him to move from a mean old money-pincher to a cheerful and charitable friend. Audiences in Europe are all-too familiar with this story, having read it or seen it in numerous screen and stage productions. There is even an animated Disney version. However, the version that dropped by cities such as Vienna, Geneva, and Oxford last month was very different. It was called Music Kyogen Scrooge (Sukuru-ji Ongaku-Kyogen), a combination of music (ongaku), the comic intermissions of Noh theatre (kyogen), and A Christmas Carol.
The idea seems faintly ridiculous; how can we combine these three things in a way that makes sense, let alone be entertaining? And yet, the three concepts combine surprisingly well. The original story is one that many people know, making the less-familiar elements easier to make sense of. Meanwhile, the story of the miser Scrooge confronting a number of ghosts, can be stripped back to involve only two kyogen. They are Juro Zenchiku and his son, Dajiro Zenchiku. Juro Zenchiku is the grandson of the first Kyogen actor and a Living National Treasure. He plays Scrooge (Sukuru-ji), and his son embodies that various ghosts: Marley, and the ghosts of Christmas Past, Present, and Future. Daijiro Zenchiku is part of a group of young actors that are trying to revitalise and continue the art form, making it relevant and accessible in the 21st century world.
Having only two actors makes it simpler to apply the structure of Kyogen to the story. Meanwhile, it has a curious effect on how audiences interact with the scenes in the story. In other versions, ghosts bring Scrooge face-to-face with painful moments from his life, or moments where he has caused harm to others. In Sukuru-ji Ongaku-Kyogen, the audience can see none of this. They are blinder than Sukuru-ji, only taking his reactions as a sign that he can see something else, something that isn't in the performance space. Is it, perhaps, a reminder that everything Sukuru-ji sees is an illusion, but that illusion has the capacity to transform his world-view. This makes the audience work harder, which is perhaps not what they are expecting; we are used to having whole, imaginary worlds put in front of us. Nonetheless, the lack of prop and character brings our attention closer to Sukuru-ji's reactions – sadness, pain, and joy. Some parts were incredibly funny, yet others were more sombre, bringing a different dynamic to what one might expect of Kyogen, which are usually overwhelmingly comical.
The music was composed by Walther Giger, and performed by Kawamura Noriko, Ota Tomomi, and Shirato Fumio, It is very powerful, and is the aspect that makes Ongaku-Kyogen unique. It is not just acting or music; it is both. The music did contribute greatly to creating atmosphere in the room, but on a few occasions did jar a little with the story. This is because audiences had to both watch the actors, picture what they were seeing, read the subtitles, and listen to the music. In key scenes, this became a little overwhelming.
Despite this, the whole production has a wonderfully festive feel. Even though it is not being quite-December, audiences cheerfully wish each other a 'Merry Christmas' as they leave the Holywell Music Room, Oxford.