Tipping Point: Our World in Crisis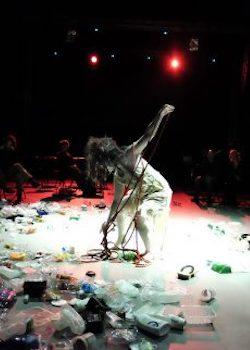 Review by Alice Baldock

---
Butoh, an avant-garde artform that tiptoes along the precipice between performance art, dance, and absurdity, began in post-war Japan. It was a way of finding new means of expression, and it was also a form of protest. Café Reason interprets it as a way to 'uncover the dance that already exists in the body'. Since the 1950s, what butoh is has both expanded and contracted in meaning. Those who founded it did not want butoh to become something with characteristics, yet, elements like painting the whole body, creating grotesque facial expressions, and moving with slow, grounded steps, have somehow become 'butoh'. However, the reach of butoh has expanded to envelop the whole world, with groups still strong and active in Brazil, the US and the UK. Café Reason is the only UK butoh group outside of London. Their latest piece, Tipping Point, uses a dash of these butoh 'characteristics' alongside many other interesting ways of moving. More importantly, these dancers use butoh to protest, much like their distant Japanese predecessors. In this piece, however, the protest is about a concern that is both urgent and global: our climate emergency.
The completely sold-out piece, conceptualised and choreographed by Cath Blackfeather, Ayala Kingsley, and Karen Goonewardene, has been a year in-the-making. They join the other dancers in performance, costume-making, and even videography to create a piece that is varied, fractured, and continuously unravelling before the audience's eyes. The piece is split into seven parts, exploring the environmental impact of human life upon aspects of the non-human world, such as migration and ocean environments.
There are many moments that the group intended to be shocking. In 'Gaia', Fabrizia Verrecchia, playing Gaia, is stripped of a beautiful, trailing cloak by three business-suited, animal-masked villains. They rip at her clothes, tear black material – reminiscent of coal – from her, and take away her basket. Haunting sounds from musicians Jill Elliott and Maggie Nicols accompany this looting, making it a piece not for the faint-hearted.
Another shocking moment is when these villainous creatures return to the stage with three black sacks, larger than a person. They upend them all over the stage, and all over Gaia, and out of them, tumble empty plastic containers, drink bottles, yoghurt cups, CD covers. The dancers try desperately to build something useful from them, sandcastles of plastic, to no avail. They end the piece as a group, looking out on the audience, daring them to do something about habits, habits all of us keep, that are leading to this mess.
The dancers obviously put a great deal of thought behind harmonising concept with costume, music, and lighting. Each element of the performance worked seamlessly to bring about the pressing message of the piece. Some sections, perhaps, went on a little long for some audience members. However, the overall performance was already only 75 minutes long, and just as one piece began to teeter towards the repetitive, the entire setting of the dance changed, relieving that feeling. From dancers imitating migrating birds, to being wrapped in cling film, to rolling through a sea of packaging, the performance was both diverse and thought-provoking.