Issue 11 (October 2007, Volume 2, Number 5)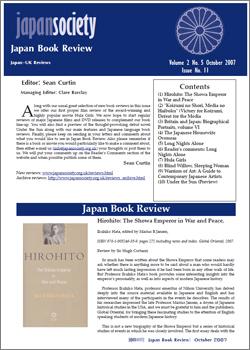 Along with our usual great selection of new book reviews in this issue we offer our first proper film review of the award-winning and highly popular movie Hula Girls. We now hope to start regular reviews of major Japanese films and DVD releases to complement our book line-up.

You will also find a preview of the thought-provoking debut novel Under the Sun along with our main features and Japanese language book reviews.

Finally, please keep on sending in your letters and comments about what you would like to see in Japan Book Review. Also please remember if there is a book or movie you would particularly like to make a comment about, then either e-mail us (info@japansociety.org.uk) your thoughts or post them to us. We will put your comments up on the Reader's Comments section of the website and when possible publish some of them.
---
Contents
Reader's comments: Long Nights Alone


Under the Sun (Preview)
Contributors
Editor
Sean Curtin
Managing Editor
Clare Barclay
Reviewers
Sir Hugh Cortazzi, Fumiko Halloran, Janet Hunter, J. Sean Curtin, Clare Keen, Susan Meehan and Mikihiro Maeda