Issue 29 (October 2010, Volume 5, Number 5)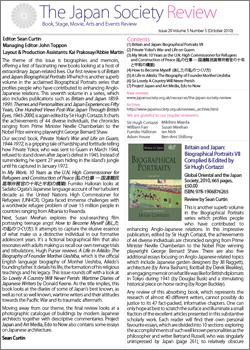 The theme of this issue is biographies and memoirs, offering a fest of fascinating new books looking at a host of extraordinary Japan-related lives.

Our first review is of Britain and Japan: Biographical Portraits VII which is another superb volume in the acclaimed Biographical Portraits series that profiles people who have contributed to enhancing Anglo- Japanese relations. This seventh volume in a series, which also includes publications such as Britain and Japan 1859- 1991: Themes and Personalities and Japan Experiences: Fifty Years, One Hundred Views Post-War Japan Through British Eyes, 1945-2000, is again edited by Sir Hugh Cortazzi. It charts the achievements of 44 diverse individuals, the chronicles ranging from Prime Minister Neville Chamberlain to the Nobel Prize winning playwright George Bernard Shaw.

Our second book, Private Yokoi's War and Life on Guam, 1944-1972, is a gripping tale of hardship and fortitude telling how Private Yokoi, who was sent to Guam in March 1944, refused to stand down after Japan's defeat in 1945. Instead of surrendering, he spent 27 years hiding in the island's jungle until his captured in January 1972.

In My Work: 10 Years as the U.N. High Commissioner for Refugees and Construction of Peace (私の仕事 ― 国連難民 高等弁務官の十年と平和の構築) Fumiko Halloran looks at Sadako Ogata's Japanese language account of her turbulent decade as the United Nations High Commissioner for Refugees (UNHCR). Ogata faced immense challenges with a worldwide refugee problem of over 15 million people in countries ranging from Albania to Rwanda.

Next, Susan Meehan explores the soul-searching film portraying teenage angst How to Become Myself (あした の私のつくり方). It attempts to capture the elusive essence of what make us a distinctive individual in our formative adolescent years. It's a fictional biographical film that also resonates with adults making us recall our own teenage trials and tribulations.

Hugh Purser reviews A Life in Aikido: The Biography of Founder Morihei Ueshiba, which is the official English language biography of Morihei Ueshiba, Aikido's founding father. It details his life, the formation of his religious teachings and his legacy.

This issue rounds off with a look at So Lovely A Country Will Never Perish: Wartime Diaries of Japanese Writers by Donald Keene. As the title implies, this book looks at the diaries of some of Japan's best known, as well as not so well known, wartime writers and their attitudes towards the Pacific War and its traumatic aftermath.

Moving away from our theme, the final review looks at a photographic catalogue of buildings by modern Japanese architects together with descriptive commentaries. Project Japan and Art Media, Edo to Now also contains some essays on Japanese architecture.
---
Contents
Contributors
Editor
Sean Curtin
Managing Editor
John Toppon
Layout & Production Assistants
Kai Prakosay and Abbie Martin
Reviewers
Sean Curtin, Fumiko Halloran, Susan Meehan and Hugh Purser