Issue 43 (February 2013, Volume 8, Number 1)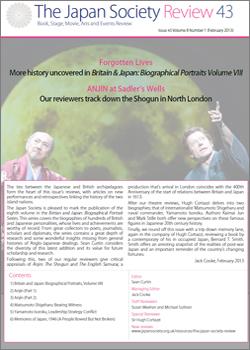 The ties between the Japanese and British archipelagoes form the heart of this issue's reviews, with articles on new performances and retrospectives linking the history of the two island nations.

The Japan Society is pleased to mark the publication of the eighth volume in the Britian and Japan: Biographical Portrait Series. This series covers the biographies of hundreds of British and Japanese personalities, whose lives and achievements are worthy of record. From great collectors to poets, journalists, scholars and diplomats, the series contains a great depth of research and some wonderful insights missing from general histories of Anglo-Japanese dealings. Sean Curtin considers the diversity of this latest addition and its value for future scholarship and research.

Following this, two of our regular reviewers give critical appraisals of Anjin: The Shogun and The English Samurai, a production that's arrival in London coincides with the 400th Anniversary of the start of relations between Britain and Japan in 1613.

After our theatre reviews, Hugh Cortazzi delves into two biographies; that of internationalist Matsumoto Shigeharu and naval commander, Yamamoto Isoroku. Authors Kaimai Jun and Mark Stille both offer new perspectives on these famous figures in Japanese 20th century history.

Finally, we round off this issue with a trip down memory lane, again in the company of Hugh Cortazzi, reviewing a book by a contemporary of his in occupied Japan, Bernard T. Smith. Smith offers an arresting snapshot of the realities of post-war Japan and an important reminder of the country's changing fortunes.
---
Contents
Contributors
Editor
Sean Curtin
Managing Editor
Jack Cooke
Staff Reviewers
Susan Meehan and Michael Sullivan
Special Reviewer
Sir Hugh Cortazzi