Issue 65 (October 2016, Volume 11, Number 5)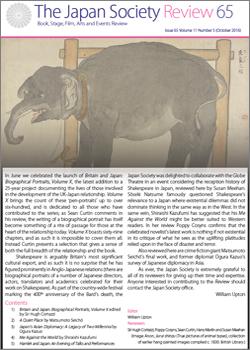 In June we celebrated the launch of Britain and Japan: Biographical Portraits, Volume X, the latest addition to a 25-year project documenting the lives of those involved in the development of the UK-Japan relationship.

Volume X brings the count of these 'pen-portraits' up to over six-hundred, and is dedicated to all those who have contributed to the series; as Sean Curtin comments in his review, the writing of a biographical portrait has itself become something of a rite of passage for those at the heart of the relationship today. Volume X boasts sixty-nine chapters, and as such it is impossible to cover them all. Instead Curtin presents a selection that gives a sense of both the full breadth of the relationship and the book.

Shakespeare is arguably Britain's most significant cultural export, and as such it is no surprise that he has figured prominently in Anglo-Japanese relations (there are biographical portraits of a number of Japanese directors, actors, translators and academics celebrated for their work on Shakespeare). As part of the country-wide festival marking the 400th anniversary of the Bard's death, the Japan Society was delighted to collaborate with the Globe Theatre in an event considering the reception history of Shakespeare in Japan, reviewed here by Susan Meehan. Sōseki Natsume famously questioned Shakespeare's relevance to a Japan where existential dilemmas did not dominate thinking in the same way as in the West.

In the same vein, Shiraishi Kazufumi has suggested that his Me Against the World might be better suited to Western readers. In her review Poppy Cosyns confirms that the celebrated novelist's latest work is nothing if not existential in its critique of what he sees as the uplifting platitudes relied upon in the face of disaster and terror.

Also reviewed here are crime fiction giant Matsumoto Seichō's final work, and former diplomat Ogura Kazuo's survey of Japanese diplomacy in Asia.

As ever, the Japan Society is extremely grateful to all of its reviewers for giving up their time and expertise. Anyone interested in contributing to the Review should contact the Japan Society office.
---
Contents
Contributors
Editor
William Upton
Reviewers
Sir Hugh Cortazzi, Poppy Cosyns, Sean Curtin, Harry Martin and Susan Meehan