Issue 79 (February 2019, Volume 14, Number 1)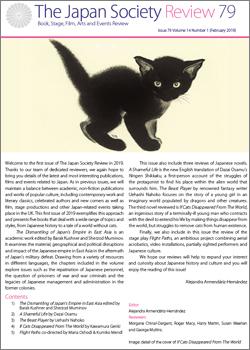 Welcome to the first issue of The Japan Society Review in 2019. Thanks to our team of dedicated reviewers, we again hope to bring you details of the latest and most interesting publications, films and events related to Japan. As in previous issues, we will maintain a balance between academic, non-fiction publications and works of popular culture, including contemporary work and literary classics, celebrated authors and new comers as well as film, stage productions and other Japan-related events taking place in the UK. This first issue of 2019 exemplifies this approach and presents five books that deal with a wide range of topics and styles, from Japanese history to a tale of a world without cats.
The Dismantling of Japan's Empire in East Asia is an academic work edited by Barak Kushner and Sherzod Muminov. It examines the material, geographical and political disruptions and impact of the Japanese empire in East Asia in the aftermath of Japan's military defeat. Drawing from a variety of resources in different languages, the chapters included in the volume explore issues such as the repatriation of Japanese personnel, the question of prisoners of war and war criminals and the legacies of Japanese management and administration in the former colonies.
This issue also include three reviews of Japanese novels. A Shameful Life is the new English translation of Dazai Osamu's Ningen Shikkaku, a first-person account of the struggles of the protagonist to find his place within the alien world that surrounds him. The Beast Player by renowned fantasy writer Uehashi Nahoko focuses on the story of a young girl in an imaginary world populated by dragons and other creatures.
The third novel reviewed is If Cats Disappeared From The World, an ingenious story of a terminally-ill young man who contracts with the devil to extend his life by making things disappear from the world, but struggles to remove cats from human existence.
Finally, we also include in this issue the review of the stage play Flight Paths, an ambitious project combining aerial acrobatics, video installations, partially sighted performers and Japanese culture. We hope our reviews will help to expand your interest and curiosity about Japanese history and culture and you will enjoy the reading of this issue!
---
Contents
Contributors
Editor
Alejandra Armendáriz-Hernández
Reviewers
Morgane Chinal-Dargent, Roger Macy, Harry Martin, Susan Meehan and George Mullins