Issue 80 (April 2019, Volume 14, Number 2)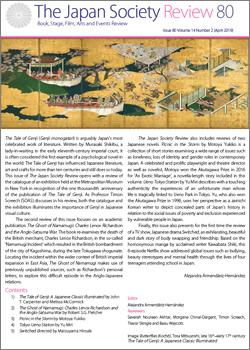 The Tale of Genji (Genji monogatari) is arguably Japan's most celebrated work of literature. Written by Murasaki Shikibu, a lady-in-waiting in the early eleventh-century imperial court, it is often considered the first example of a psychological novel in the world. The Tale of Genji has influenced Japanese literature, art and crafts for more than ten centuries and still does so today.
This issue of The Japan Society Review opens with a review of the catalogue of an exhibition held at the Metropolitan Museum in New York in recognition of the one thousandth anniversary of the publication of The Tale of Genji. As Professor Timon Screech (SOAS) discusses in his review, both the catalogue and the exhibition illuminates the importance of Genji in Japanese visual culture.
The second review of this issue focuses on an academic publication The Ghost of Namamugi: Charles Lenox Richardson and the Anglo-Satsuma War. The book re-examines the death of the British merchant, Charles Lenox Richardson, in the so-called 'Namamugi Incident' which resulted in the British bombardment of the city of Kagoshima, during the late Tokugawa shogunate. Locating the incident within the wider context of British imperial expansion in East Asia, The Ghost of Namamugi makes use of previously unpublished sources, such as Richardson's personal letters, to explore this difficult episode in the Anglo-Japanese relations.
The Japan Society Review also includes reviews of two Japanese novels. Picnic in the Storm by Motoya Yukiko is a collection of short stories examining a wide range of issues such as loneliness, loss of identity and gender roles in contemporary Japan. A celebrated and prolific playwright and theatre director as well as novelist, Motoya won the Akutagawa Prize in 2016 for 'An Exotic Marriage', a novella-length story included in this volume.
Ueno Tokyo Station by Yu Miri describes with a touching authenticity the experiences of an unfortunate man whose life is tragically linked to Ueno Park in Tokyo. Yu, who also won the Akutagawa Prize in 1996, uses her perspective as a zainichi Korean writer to depict concealed parts of Japan's history in relation to the social issues of poverty and exclusion experienced by vulnerable people in Japan.
Finally, this issue also presents for the first time the review of a TV show, Japanese drama Switched, an exhilarating, beautiful and dark story of body swapping and friendship. Based on the homonymous manga by acclaimed writer Kawabata Shiki, this 6-episode Netflix show addressed global issues such as bullying, beauty stereotypes and mental health through the lives of four teenagers attending school in Japan.
---
Contents
Contributors
Editor
Alejandra Armendáriz-Hernández
Reviewers
Severah Noureen Akhtar, Morgane Chinal-Dargent, Timon Screech, Trevor Skingle and Beau Waycott