Issue 83 (October 2019, Volume 14, Number 5)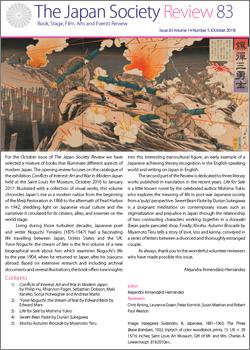 For the October issue of The Japan Society Review we have selected a mixture of books that illuminate different aspects of modern Japan. The opening review focuses on the catalogue of the exhibition Conflicts of Interest: Art and War in Modern Japan held at the Saint Louis Art Museum, October 2016 to January 2017. Illustrated with a collection of visual works, this volume chronicles Japan's rise as a modern nation from the beginning of the Meiji Restoration in 1868 to the aftermath of Pearl Harbor in 1942, shedding light on Japanese visual culture and the narratives it circulated for its citizens, allies, and enemies on the world stage.
Living during those turbulent decades, Japanese poet and writer Noguchi Yonejiro (1875-1947) had a fascinating life travelling between Japan, Unites States and the UK. Yone Noguchi: the stream of fate is the first volume of a new biographical work about him which examines Noguchi's life to the year 1904, when he returned to Japan after his sojourns abroad. Based on extensive research and including archival documents and several illustrations, the book offers new insights into this interesting transcultural figure, an early example of a Japanese achieving literary recognition in the English-speaking world and writing on Japan in English.
The second part of the Review is dedicated to three literary works published in translation in the recent years. Life for Sale is a little known novel by the celebrated author Mishima Yukio who explores the meaning of life in post-war Japanese society from a 'pulp' perspective. Sweet Bean Paste by Durian Sukegawa is a poignant meditation on contemporary issues such as stigmatization and prejudice in Japan through the relationship of two contrasting characters working together in a dorayaki (bean paste pancake) shop. Finally, Kinshu: Autumn Brocade by Miyamoto Teru tells a story of love, loss and karma, conveyed in a series of letters between a divorced and thoroughly estranged couple.
As always, thank you to the wonderful volunteer reviewers who have made possible this issue.
---
Contents
Contributors
Editor
Alejandra Armendariz-Hernandez
Reviewers
Chris Arning, Laurence Green, Peter Kornicki ,Susan Meehan and Robert Paul Weston