No Sushi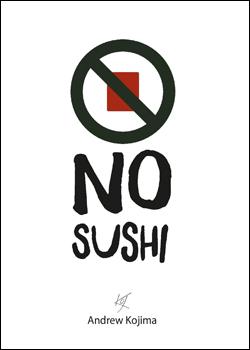 By Andrew Kojima


A Way With Media

(2020)
ISBN-13:

978-1910469231
Review by Ann Morrison
---
I was very attracted by the title of Andrew Kojima's (Koj) new cookery book – No Sushi. I liked the word play of the title and while I do like sushi, the memory of fast lunches bought from the usual outlets found around office hives was not cheering. Eating ice cold sushi straight from the fridge, trying to open the un-openable pickled ginger sachet while juggling the tiny fish-shaped plastic soy sauce bottle (which promptly fell, soaking the first two or three sushi pieces in pure salt, leaving nothing for the others) and eking out the wasabi - was not a great experience. The sushi itself, once out of all its plastic packaging and at room temperature was pretty good - but you get my drift.
Koj promises no sushi recipes - and this book delivers. In the introductory section he explains why, quoting from a MITI report 'There are half a million places to eat in Japan and less than 10% of them are sushi restaurants'. Koj contrasts this with his estimate that there are some 120,000 Japanese restaurants around the world and 90% of them serve sushi. He recognizes the appeal of sushi and its place 'as the poster boy of Japanese culture', that it is photogenic and regarded as a healthy food. But he laments that in focusing on sushi, we are missing out on the breadth and variety in Japanese cuisine. His mission in his restaurant in Cheltenham (also named "Koj") is 'to promote the eclectic range of Japanese food that exists outside the world of sushi'. The mission is extended in this book with a range of recipes which can be cooked successfully at home (watch also the video of Andrew's recipe for spicy miso peanut aubergine with The Clearspring Kitchen at Japan Matsuri Presents).
This is a beautifully presented book - the cover echoes Japanese design simplicity, being in black and white with a splash of red, this, with the unusual title, makes you curious to look inside. The layout of the introductory chapters and the recipe sections is clean and clear with lovely, atmospheric, photographs of each completed recipe. In some ways it is an unusual book. It opens with several short sections describing Koj's background and his journey, via the Masterchef finals in 2012, from leaving his job in corporate finance, working in various kitchens to gain experience, becoming a private chef and then, opening "Koj" in Cheltenham (now unfortunately closed). It then moves to describing the development of the restaurant over the last 3 or 4 years, the team Koj works with and the suppliers he uses. I enjoyed the story but, as a Japanese cooking tyro, I would have liked the section on how Japanese cooking can be made accessible to home cooks expanded. That said, the book is not setting itself up as a guide to Japanese cooking for beginners - there are other authors who do that very successfully. Rather, it describes a particular range of dishes which are truly Japanese in inspiration, are served in his restaurant, but which can also be prepared by home cooks. While some recipes for basic flavourings are given, these are not put together in one place for reference. In one section Koj describes simple, time-effective meals which can be prepared at home such as donburi or noodles stir-fried as in yakisoba, but I cannot find separate recipes for these in the book. (I looked for them, but, tragically, there is no index; very unusual in a cook book. After a search I found a recipe for a lovely, unctuous-sounding Mabodon, a spicy gravy originating in Sichuan, which Koj suggests can be served as a topping to a donburi rice bowl.)
The recipes look absolutely yummy which, with the almost edible photographs next to them, make you long to eat the completed dish. The sections covered are - Cocktails, Appetisers, Buns, Grazing plates, Side-dishes and Desserts.
The cocktails sound delicious. They start with the Okinawa Old Fashioned - a short, strong drink made of American Bourbon (in a reference to the US naval presence in Japan), Pedro Ximenez sherry, shiso vinegar, sugar syrup and orange bitters. The description of the cocktail and its photograph made me just want to reach in and slurp! Koj also suggests making it with Japanese whisky which can have a similar feel to Bourbon. And the section ends with a wonderful-sounding mocktail - the Red Lantern, (referencing akachochin red lanterns which hang outside Japanese izakaya (informal bars serving drinks and snacks) composed of cold brew hojicha tea, grenadine syrup, hibiscus tonic and fino sherry.
The appetisers are real taste-bud teasers – small plates of food light-years away from the usual crisp and peanut offerings in many UK bars. Some are familiar, such as the Padron peppers (the European equivalent of Japanese shishito peppers) with sea salt and a twist of yuzu; but others less so - crispy shitake mushrooms with tonkatsu mayo or aubergine agebitashi both sounded perfect for starting a meal or to serve with drinks.
Filled buns are the current vogue in Europe. Food outlets of all descriptions (fast or otherwise) now offer them as authentic street food options. So Koj's section on filled buns rides the bun zeitgeist perfectly. The fillings are built for oozing out of a folded, puffy bun, filled with a mix of savoury tastes, flooded with sauces or mayo. Who could resist panko cauliflower, yuzu pickled red onion and curry mayo? Or crispy shiitake, aubergine and truffle mayo? I made the panko cauliflower buns and they were simply gorgeous. The only surprise was that Koj does not give a recipe for making buns; he simply lists bao buns in the ingredients list. This seems a pity as they are straightforward to make at home.
Koj describes "grazing"' as a Japanese cultural custom. Rather than quickly eating one main dish, served hot, as we often do in the UK, he suggests that the Japanese "graze" through several dishes, taking time to enjoy the carefully prepared variety of tastes on offer. The recipes in this section are a mix, including Koj fried chicken (his own version of karaage), beef shoga yaki salad, miso marinated cod with bok choi and radish, chicken curry udon (with the curry sauce clinging to the udon and topped with chicken, pak choi and soft boiled egg - mmmmm!). All are packed with flavour. These gorgeous grazing dishes would be accompanied by a variety of vegetable side dishes and rice.
There is a short section on desserts - small portions of singing sweetness, designed to finish off a good meal. The photographs reflect elegant and beautifully presented puddings, providing a sweet hit without making you feel like Paddington Bear after a particularly large pot of marmalade. Gets my vote!
This is an interesting and enjoyable book, following one man's journey to becoming a successful chef and restaurateur, now sharing his Japanese food heritage with his customers. The recipes in the book are clear and simple to follow and are carefully chosen and presented in a way that makes you long to cook them (and eat them!). Koj has been careful to make the most of Japanese flavours and the great thing about his book is that we can now replicate these in carefully chosen home-cooked dishes. Most of the recipes include Japanese ingredients; and while many can now be bought on line, it might have been helpful if Koj could have suggested some alternatives.