Things Remembered And Things Forgotten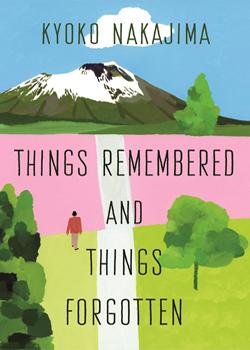 By Nakajima Kyoko
Translated by Ian MacDonald and Ginny Tapley Takemori

Sort Of Books (2021)
ISBN-13: 978-1908745965
Review by Laurence Green
---
For Tokyo-born author Nakajima Kyoko, memory stands as an incredibly fruitful font from which to draw a multitude of short-form confections. Gathered here in an attractive new collection from Sort Of Books, Things Remembered And Things Forgotten presents us with ten takes on the themes of cultural amnesia, of past and present colliding, of a Japan still very much coming to terms with years long gone by. These resonances will no doubt be familiar to those that enjoyed Nakajima's previous work to be translated into English - the Naoki prizewinning The Little House. Now, by way of a series of highly capable translations from Ginny Tapley Takemori and Ian McCullough MacDonald, we are given another bite of the cake, another opportunity to contend with - if only for a short while - the minutely intricate workings of a Japan that is never quite what it initially seems to be.
Part of the compelling power of The Little House was its status as a quiet masterpiece in subverting expectations. There, what begins as a seemingly humble, almost banal depiction of domesticity and scenes of a historic Japan lost to time slowly reveals itself as a powerful statement on the postwar experience; pulling back the veil that conceals the often cavernous gulf between official histories and personal memory. Much like Kazuo Ishiguro - to make an obvious comparison - Nakajima has a listener's ear for both the easy rhythms of conversational dialogue and the way this can be interweaved so artfully into the central narrative drive of a tale. Her narrators come to feel like friends, gentle companions guiding you through the reading experience - which makes the inevitable 'surprise' they hold in reserve all the more impactful when it finally comes.
In Things Remembered And Things Forgotten, the three works that open this collection are in many ways the clear standouts here; technical exercises, almost, in showcasing the kind of literary mechanisms outlined above. In the title story - the translation of which was previously published in a special issue of Granta focusing on Japanese literature - the discussion of the postwar experience is at its most overt. We hear of an advert placed in the newspapers:
'URGENTLY SEEKING QUALIFIED FEMALE STAFF
Excellent pay and benefits - food, clothing and lodging provided; salary payable in advance upon request. Will reimburse applicants' travel expenses from anywhere in Japan.'
We are then told of the true meaning behind this seemingly innocuous ad, and what it implies for Japanese women in a nation occupied by US forces:
'Are you prepared to serve as a sexual breakwater to protect and nurture the purity of our race for the next hundred years?... In other words, you know… Doing it - with American Gis.'
The idea of an emotionally charged postwar experience is conveyed further in The Life Story Of A Sewing Machine, in which the narrative is centred around the tortured existence of a humble labour-saving device. Churning out clothes in the war years, an air raid sees the titular sewing machine reduced to a mangled wreck, only to be salvaged and brought back to life by an impoverished woman in the aftermath of Japan's defeat. As the country pieces itself back together and rebuilds, this bruised and battered machine becomes a lifeline, a route out of poverty - which makes its ultimate abandonment into first a storage cupboard, and then an antique shop, all the more heartbreaking. If ever an inanimate object was imbued with feeling, it is here.
Personal histories and sensitivity of emotion also mingle to charming effect in When My Wife Was A Shiitake. Here, in a story that mingles self-deprecating humour with touching sentiment, a widower finds an unusual connection to his deceased wife in the form of her handwritten cooking notebooks. From his initial, excruciatingly poor efforts at emulating his wife's cooking, he gradually progresses, his improving attempts serving not only as a cherished bond between him and the memories of his wife, but also their daughter and grandchild, who delight in the culinary wonders he comes to create.
Across all three of these stories, the sheer emotional poignancy is arguably worth the price of admission alone. This is not to say the other works that follow are necessarily weaker, only that their depths are more subtle - demanding more of the reader to tease out their significance and meaning. In Kirara's Paper Plane, a simple, comic turn on the ghost story format morphs into a moving social commentary on poverty. In A Special Day, we are presented with a distinctly weird, but highly evocative, portrayal of place as we are taken through, in precise detail, a small art gallery tucked away in the backstreets of Tokyo.
Some of the other stories - chiefly The Pet Civet and Childhood Friends - take on a sudden, surprising eroticism. Characters give themselves over to bodily pleasure with a sense of sheer freedom that is perfectly captured in the quiet intensity of Nakajima's prose. While these moments of sensuality may seem at odds with the thematic seriousness of her material on war memory, they hinge on a fundamentally similar understanding of the human condition; the basic - often impulsive - functions and urges that propel us through life from birth to death.
It is this consistency that lends an almost clockwork-like sleekness to each and every short story in this collection. Indeed, Nakajima's skill as a storyteller is very much that of the artisan craftsman, honing a set of delicate, finely tuned works that dazzle precisely because they combine art and function so effectively. Their brevity, if anything, only adds to this. Forced to deliver their emotional payload within a compact format, time and again Nakajima lulls us into a sense of comforting security, only to pull a killer twist on us. What we think we know is always only half the story.