There's No Such Thing As An Easy Job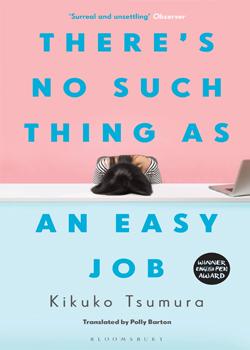 By Tsumura Kikuko
Translated by Polly Barton
Bloomsbury Publishing

(2020)
ISBN-13: 978-

1526622242
Review by Beau Waycott
---
Within 10 months of her graduation, Tsumura Kikuko had quit her job after facing pawahara, or power harassment, from her boss. Since then, her writing has focused on the plight of young workers in Japan, winning her both the Akutagawa and Dazai Osamu Prizes. There's No Such Thing As An Easy Job won her the MEXT New Artist Award in 2016, and Polly Barton's new English translation offers Anglophone readers the chance to share the unnamed protagonist's time drifting between supposedly mundane jobs after corporate burnout. Despite wishing to mentally detach herself almost entirely, she comes to understand that human relationships make all jobs an investment, prompting a final re-examination of her time away from her career.
Divided into five chapters of between 70 to 100 pages, Tsumura has her protagonist find herself in a new job five times, each complete with its own new location, host of characters, and impacts on the protagonist's daily routine. Through this serialized structure, Tsumura slowly allows her messaging to gain overtness in its politicisation. The significance of her first section manager being male, for example, is multiplied when, by her fifth section manager, a woman has still not fulfilled the role. Indeed, Tsumura's feminism is, whilst perhaps subtler than that of other contemporary Japanese writers, a constant throughout the novel, with the male role of the section manager being contrasted by female sempai who aid the protagonist—be she of a lower or higher position than them—in her journey towards the novel's conclusion.
The first stress-free job the protagonist finds herself in involves some kind of peculiar surveillance, monitoring a semi-successful writer thought to be harbouring contraband. Opening with markedly Kafkaesque themes, the mundanity of the job soon becomes clear, setting the quiet tone that will be nurtured over the next 400-or so pages. Not only are we introduced to the protagonist and her desires for mindless employment, but the odd procrastination techniques of the writer allow interesting possible parallels to Tsumura's writing habits. Indeed, it seems easier to draw parallels between Tsumura and this early writer character than her protagonist, who seems to have left her job not due to some kind of discrimination but a more gender-neutral feeling of general burn out.
After this job ends, the protagonist begins writing audio advertisements for a local bus company. The plot becomes more curious, beginning to take a slightly magical realist turn as the protagonist slowly begins to see that new shops seem to be openly up randomly, whilst long-established establishments quietly shut their doors. What's more, these patterns seem to be somehow linked to the bus's advertisement schedule. With this unexpected additional burden, the protagonist soon begins working for a rice cracker company, writing titbits of trivia for the back of the packaging. This third section of the book offers the best insight into a more corporate, office-like Japanese workplace, with the complex relationships between staff members playing out through both office politics and workplace friendships. This section also contains some of Tsumura's most pointed criticisms of materialism and capitalist working patterns, which are underlying through the text, with underpaid female workers desperately trying to lift their children into higher education with the help of the crackers' factoids. However, another unexpected turn, this time the wild popularity of the trivia, leads the protagonist on to her next job.
This fourth job takes us out of the office and into the more domestic sphere. Now employed to tack up public information posters in the suburbs, the protagonist spends a lot of time speaking to the often-elderly local residents, exposing the issues that the elderly face in suburban communities. Moreover, as the suburbs become the focus of a curious new community group, those who wish to exploit the isolation of the elderly are also introduced.
The final—and prima facie the easiest—job, mapping areas of vegetation in a large national park, ends up exhausting, both through its demands and its surrealism. Soon after tones of magical realism re-enter, they are contextualised as simply extremely peculiar events, and the path that leads the protagonist to her final realisation becomes clear. Indeed, there are possible links to classic works of Japanese literature here, as there are throughout the novel, in which the protagonist's period of exile, here from professionalism, allows the introspection needed for a great realisation.
Although perhaps unusual for readers outside the UK, Barton's witty and warm use of British English imbues the plot with verisimilitude whilst deftly incorporating more foreign vocabulary, especially in Tsumura's rich descriptions of Japanese cookery. The markedly British idioms fit perfectly the typically dry humour of Osaka-born Tsumura, and readers of Barton's essay-memoir can find excellent evidence of the translation process she recalls in 50 Sounds (Fitzcarraldo, 2021) in her rendering of There's No Such Thing As An Easy Job. Overall, Barton's receival of the 2020 English PEN Translates Prize is certainly very well justified.
Ultimately, Tsumura's work shows that, however you wish to see your job, a feeling of sekininkan, or personal responsibility, is unavoidable. Although first published in Japan in 2016, There's No Such Thing As An Easy Job is apt for our current times, in which we are all working from home and the boundaries of the professional and the domestic feel more liminal than ever. Yet, the book also offers solace in these strange times: after coming face-to-face with what she was fleeing all along, the protagonist's blurred view of reality, meta-reality and the surreal ultimately shows us how hope can appear out of anything.