Kawada Ryokichi - Jeanie Eadie's Samurai: The Life and Times of a Meiji Entrepreneur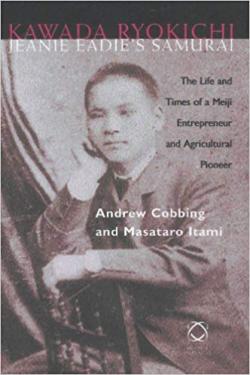 Kawada Ryokichi - Jeanie Eadie's Samurai: The Life and Times of a Meiji Entrepreneur and Agricultural Pioneer
By Andrew Cobbing and Masataro Itami
Global Oriental, 2006
ISBN 1-901903-02-8

Review by Sir Hugh Cortazzi
In Britain there are now many interracial marriages and the prejudices against such unions have largely disappeared especially in the case of marriages between British and Japanese. The same is largely true of enlightened circles in Japan. Where prejudices do continue they are more likely to be based on class consciousness than on racial grounds. But in the first hundred years or so after the end of the Tokugawa era there were strong objections against such unions especially among the new Japanese elite. There were, however, a number of well known and successful interracial marriages as well as some failures. One outstanding example of a successful Anglo-Japanese match was that between Baron Sannomiya Yoshitane who became Grand Master of the Ceremonies to the Imperial Household in the late Meiji period. Another was that of Mutsu Hirokichi, son of Mutsu Munemitsu, Japanese Foreign Minister, with Ethel later known as Countess Iso Mutsu. Ethel was the daughter of Hirokichi's landlord in Cambridge. His father forbade the marriage but when Hirokichi was appointed Japanese Consul in San Francisco he persuaded Ethel to join him there although they had not met for some years. They eventually married and Hirokichi became Counsellor in London responsible for Japanese participation in the Anglo-Japanese exhibition at Shepherds Bush in 1910. Some other matches, as Koyama Noboru has explained in an essay in Britain and Japan: Biographical Portraits Volume IV (Japan Library, 2002), ended in failure. Some British diplomats, officials and others in the Meiji period, such as the outstanding diplomat Sir Ernest Satow, had Japanese mistresses or common law wives which they hid from the prudish eyes of Victorians in Britain. Some others, who made their home in Japan such as Captain Frank Brinkley, insisted on marrying their Japanese mistresses. Lady Arnold, the Japanese widow of Sir Edwin Arnold, became a pillar of the Japan Society in London in the early decades of the twentieth century.
There were sadly a number of cases where there was real love and affection on both sides but which ended in unhappiness if not tragedy. These two books (the second in the next review - Falling Blossom: A British Officer's Enduring Love for a Japanese Woman) tell two such stories, based on letters which were fortunately preserved. Both are moving accounts of tragic love affairs - some might call them tear-jerkers. In both cases the woman was the loser. It is tempting in these days when we rightly attach importance to equality of the sexes to condemn the men involved for at the very least insensitivity, but we cannot know all the circumstances and should perhaps reserve judgement.
Kawada Ryokichi - Jeannie Eadie's Samurai
Kawada Ryokichi was born in 1856 in the province of Tosa in Shikoku. He was the son of a lower-ranking samurai much involved in farming. This was the basis of his later commitment to agricultural development, but he was a keen student and was sent to Osaka to study English. His father, Kawada Koichiro, worked with Iwasaki Yataro who established the Mitsubishi trading company and what eventually became Nippon Yusen Kaisha (NYK). Koichiro became a very successful businessman and when the peerage was established he was made a Baron. Ryokichi went to Tokyo in 1874 and as a result of his father's interest in Japan's first shipbuilding yard Mitsubishi Engine Work [sic] he was sent in 1877 to study shipbuilding as an apprentice engineer at the Lobnitz , Coulbourn & Co shipyard in Glasgow. It must have been a lonely and tough life for Ryokichi, but he was a conscientious and hard working apprentice who earned the commendations of his superiors. One day in January 1883 he went into a bookshop near Glasgow Central Station where he sought help from a young female assistant, Jeannie Eadie. This chance meeting led to a growing friendship. Jeannie lived with her mother in a tiny house in Pollok Street Glasgow. She was a devout Christian and regular churchgoer. When they could not meet Jeannie would write simple letters to him. The friendship developed from affection to love, but there is no indication that this led to their sleeping together. Indeed this seems most unlikely in view of Jeannie's religious beliefs. But Ryokichi hoped to marry her and to persuade her to come back with him to Japan. Jeannie clearly had doubts about whether this would be feasible and she was worried about what would happen to her mother. When they finally parted on Ryokichi's return to Japan in 1884 he promised to try to persuade his father to agree to their marriage, but Baron Kawada Koichiro adamantly refused and forced his son to marry a suitable Japanese bride. There were children but the marriage was not a happy one. Jeannie eventually married a man considerably older than herself.
The account of the love affair is largely based on the 89 letters which Ryokichi preserved and which were only discovered in 1979. But the authors through much meticulous research have provided a full account of Ryokichi's life and give an interesting picture of the societies in Japan and in Scotland in which Ryokichi and Jeannie lived.