Beyond Zen: Japanese Buddhism Revealed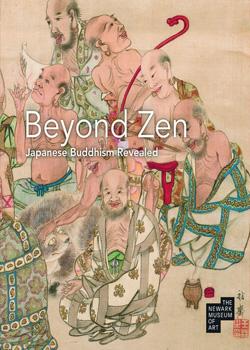 Edited by Katherine Anne Paul
Contributions by Katherine Anne Paul & Kaminishi Ikumi
D Giles Limited, London in association with the Newark Museum of Art (2021)
ISBN-13: 978-1911282556
Review by Timon Screech
SOAS, University of London

---
The Newark Museum's collection of Japanese art is insufficiently recognised, and certainly those of us living outside the USA are not well aware of it. Newark naturally suffers from proximity to New York City, with its wealth of artistic options. Nevertheless, the Museum has put itself on the map with a series of important exhibitions, notably begun under the long-standing curator of Asian Collections, Valrae Reynolds, who served for almost four decades (1970-2007). Under her the permanent gallery of Japanese art was created, in 1989. Reynolds' successor, Dr Katherine Anne Paul, now titled Curator of the Arts of Asia, has admirably carried on the tradition, and organised the exhibition Beyond Zen: Japanese Buddhism Revealed (18 September 2019 - 5 January 2020). The show was a wonderful introduction to the topic of Buddhist art in Japan, being both viewer-friendly for first-time visitors, and profound. It is greatly to be hoped that people managed to see it, despite the Covid situation. For those who could not make the trip, or others like myself who live abroad and could not go anyway, we have a lavish hardback catalogue, jointly published in the USA and UK, with full colour plates, introductory essays and helpful entries.
The Newark Museum (now the Newark Museum of Art) has given priority to Japanese art ever since its foundation in 1908. It grew out of an exhibition of George T. Rockwell's Japanese items, which had been shown at the Newark Library the year before. 3000 pieces from Rockwell entered the new Museum. As expected from things put together at that time, it contains a wealth of prints, ceramics and inro (hanging pill box). The Museum's founder, John Cotton Dana, also director of the library, donated more pieces, and since then, Japanese art of one sort or another had been added to the collection almost every year, without exception.
This exhibition reveals how rich the Rockwell collection was in Buddhist art too, with some half the items coming from him.
The catalogue opens with a striking pair of paintings, one a Shaka (Shakyamuni, the historical Buddha), probably from the 15th century, and the other an Amida (Amitābha, Buddha of the Western Paradise) [Figs 4 & 5]. They are not only fine works, but demonstrate the longevity of Buddhist iconicity. The former piece shows a golden Buddha enthroned on a lotus flower, with the 'sixteen good gods' (juroku zenshin), protectors of the dharma clustered to either side; below is the great continental monk, Xuanzang (602-666), seen introducing a Mongolian divinity that he had met on a pilgrimage to India, to Buddhism truth, on which the divinity embraced the dharma and vowed to project it. It is a key story in the East Asia tradition, incorporating India, the new Buddhist lands of modern-day People's Republic, and the pre-existing gods of region. Specialists in Japanese art will know the magnificent statue of this divinity, Jinsha Taisho in Japanese, carved by Kaikei, c. 1200. The icon is a focal Buddha with attendants, and a hagiography of a mid-7th century monk, as encoded in late-7th century text, transmitted to Japan, and prosed in a metaphysical statement, painted some 800 years after the purported events – and now, to continue, shown to us some 600 years on again, somewhat darkened by the passage of time, but still with the same inclusive message.


| | |
| --- | --- |
| Fig. 4 | Fig. 5 |
Paired with this is the Amida. It depicts not an old myth, but an old mythic statue. In Buddhism (as in Catholic Christianity indeed) it is not just the gods and Buddhas who serve as examples, or offer succour, but particular images of them. The one depicted in this probably-mid 19th century painting, is not just Amida, but the celebrated Amida icon at the Zenko-ji. It is said to be the first image ever seen in Japan, having been donated to the Japanese court in 552, by a Korean who hoped to convert the islands to the dharma, which, after some vicissitudes, is what happened. Initially the dharma was not accepted, and the icon was hurled into a ditch, from where it was retrieved and taken to a remote place for safekeeping by an adherent who gave his name to the temple built to house it, Zenko-ji. The icon is so holy that it has never, ever, been seen, or rather, not since a mediaeval warrior forced the doors open to view it – twice in fact; he noticed that the icon had moved in the interim, thus confirming it was actually alive. This is one of two living icons in Japan. The painting does not show the Zenko-ji Amida itself, the appearance of which no one knows, but a subordinate icon that stands in front, asserted to look the same. This subordinate also grew too holy to be freely seeing, so it was (and is) mostly sequestered from view. Hence the need for such paintings among devotees. Art historians in Japan and Korea, would like to see the King's gift piece, but the truth of the matter is that the shrine is probably empty.
The next two items [Figs 6 & 7] take us in the other direction. Both are two sculpted images of Shaka, dating to the Edo Period (1603-1868). They are not a pair, though they are similar, about 35cm tall, about the right size for personal icons, which were widespread, for use in domestic spaces. Inevitably, most of Rockwell's purchases were of Edo art, though his exhibition includes some impressive earlier piece too. Several icons are exhibited in their original shrine, with the doors open, which allows us to conceptualise how they were used. Sometimes the shrines have inscriptions, which assists in dating.


| | |
| --- | --- |
| Fig. 6 | Fig. 7 |
Edo is to the fore, but important to the exhibition is a set of four probably from after 1890. They show manifestations of Kannon, that is, the Amida's attendant, who will convey us to the Western Paradise. The Meiji regime (1868-1912) launched a cultural revolution against Buddhism, which is now so many icons left Japan. The Rockwell collection is not alone in having pieces stolen from temples, or salvaged from them, when the government burned the precincts down, in the name of modernisation. In these four works, however, we see Buddhism fighting back, and even, as the style suggests, modernising itself.
The exhibition is titled Beyond Zen, and it is certainly worth recalling that although tourists and school children flock to Kyoto's Zen temples, Zen had never the predominant school in Japan. It did have powerful sponsors, notably in the Ashikaga Shogunate, but numerically it was small. The Tokugawa shoguns, moreover, were not Zen, but Pure Land adherents. Modern taste has unbalanced history, and it is right and proper for this exhibition to take us 'beyond' Zen. The school is not banned, and lovers of the spontaneous link line will find work to their taste included. There are two excellent work by Unkoku Togan, a lineal successor to the great Zen master Sesshu. Unfortunately, in the catalogue they are hung the wrong way around (Fig 63 should come before Fig. 62). As a diptych, they likely were originally displayed with a Buddha image in the centre.
The exhibition has over 100 exhibits, and is too impossible here to mention them all, but one final item deserves attention. This is perhaps Newark's special treasure, for although far from a masterpiece in terms of execution, it is almost unique. The recognises is special enough to have its own catalogue chapter, by Kaminishi Ikumi. It is another Meiji work, once a long handscroll, now mounted as hour hanging scrolls. It adheres to the established genre of pictorial hagiographies of eminent monks, that would be narrative at pilgrimage temples. He is named Tokuhon, an Amidist (Pure Land) monk, who died in 1818. His biography was composed by a younger follower, Fukuda Gyokai, in 1867, so the paintings must date to after that. Tokuhon travelled but came to rest at the Daizu-in in Edo, founded (or in legend refounded) to be the mortuary temple for Tokugawa Ieyasu's mother, O-dai-no-kata, who died in 1602. Gyokai serve here and would have met Tokuhon late in life. Tokuhon ended his days, also in Edo, at the Ikko-in, and since that temple is recorded as possessing a handscroll of his life, but no longer had it, the Newark Museum presumes their piece is the one. Three similar illustrated biographies of Tokuhon are still in Japan.
Last of all, with such fine offerings and such a comprehensive exposure of Japanese Buddhist art, it seems churlish to ask for more. Nevertheless, must be said that this show is a rather modern interpretation of Buddhism. Where, I want to ask, is Shinto? It was only during the Meiji persecutions that the kami (Shinto gods) were wrenched out of where they belonged, as is, in Buddhist temples, where they served as protectors of the dharma and as their avatars. Any pre-Meiji person would have been startled to encounter an exhibition of Japanese Buddhist art that left the kami out. They are part of the story. Still, that can be told on another occasion.