monk: Light and Shadow on the Philosopher's Path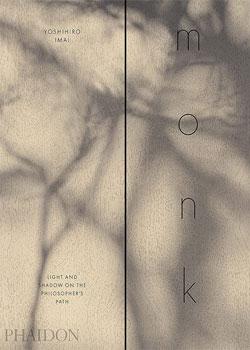 By Imai Yoshihiro
Translated by Naomi Reis and Emmy Reis



‎
Review by Riyoko Shibe
---
monk: Light and shadow on the Philosopher's Path is a chef monograph, where, through food writing – a blend of personal essays and photographs revolving around food and nature, concluding with a number of recipes – Imai Yoshihiro tells the story of his fourteen-seated wood-fire pizza restaurant.
Imai started working at a pizzeria while studying sociology at university and spent his holidays interning at different restaurants. It was in this period that he fell in love with the process of making pizza dough, and in 2015, he opened his own restaurant, monk, on the Philosopher's Path in Kyoto.
Echoing the inspiration behind the restaurant, the book is divided by seasons with images to match. Opening with spring, photos of bright blue skies, foraged foods and farms alternate with bright plates of spring vegetables and fruits; colourful pizzas are interspersed with photographs of blooming cherry blossoms. Summer, Autumn and Winter follow.
Each element of monk is given space and prominence, from a single ingredient to the architecture and design of the building itself, to the joys of hospitality. In 'The Yayoi Stone Ax', Imai writes about the tools he uses to cook, while in 'Vessels', he ponders the dishes used to serve food. In another chapter, 'The Mushroom Whisperer', by writing a homage to Sasaki Yu, a mushroom forager who sources the mushrooms used in the restaurant, he uncovers meaning and joy behind the ingredient used at monk.
Bringing each element of the restaurant alive, Imai makes all aspects of monk familiar and relatable to his audience: not only philosophy, history and tradition, but also practical elements like the troubles brought by Covid – both financial and emotional – and staffing issues, rent and sustainability. In the essay 'Life and Work' he explores his own perspective on work/life balance simply by tracing his day from waking up and eating breakfast with his children, shopping for vegetables, ordering fish, and daily yoga. Seamlessly, the day folds into food preparation, service at the restaurant, closing up, and the walk home.
The book closes with 75 recipes – each rather simple if tweaked to swap out the stated local Kyoto ingredients for alternatives, and to fit a standard oven over a wood-fired one. These recipes serve as a fitting conclusion, making real the themes explored throughout the book.