Tristan and Isolde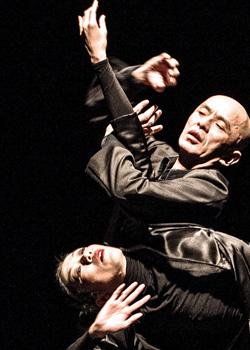 Review by Alice Baldock
---
In Teshigawara Saburo's reimagination of Wagner's Tristan and Isolde, our lovers are never quite touching. Near the very beginning of the piece (which is ambitiously stripped back from a three-act opera to one hour dance piece), we see the characters become increasingly fascinated with each other, drawing closer and closer as the piece builds. The story behind the duet between KARAS dancers Teshigawara and Sato Rihoko is of two lovers who should not be together, but who fall recklessly in love after imbibing a love potion.
The simplicity of the setting, the complexity of the lighting, and condensed character and length of the piece, all contribute to creating a dance that highlights the tragedy of romance, as the two lovers end up dead by the end of Wagner's story. The piece features only two dancers, Sato and Teshigawara, who have been working on dance projects together for 26 years. Their knowledge of each other's movements made the characters of Tristan and Isolde appear convincingly infatuated with one another. Their movements – which, in the post-performance talk, Teshigawara and Sato revealed to be part-improvisation, within the frame of timings and music – were at some moments slow and controlled, at others whirling and out-of-control, at others their limbs and fingers were shaking with the pressure of some immense emotion. The movements of each dancer always miss each other – in one scene, dancers rush from one segment of a cross on the floor of the stage, moving into a different section just as the other dancer escapes it. In another striking scene, Isolde is on the floor, unable to get up, as Tristan extends her hands towards here, fingers enticing her and dragging her by her gaze around the little box of light her body is confined too, but never touching her and letting her have what she is craving. When the two lovers finally touch, and their eyes meet just for a second, the abject terror both their faces portray, which matches the music perfectly, showed the audience a kind of love that is overwhelming, and not necessarily happy.
Lighting augmented this intensity. At the beginning of the piece, Sato moves her arms sinuously, a ripple of movement connecting from the tip of one hand, along her arm, across her chest and over to her opposite fingertip. This extended line is highlighted by Teshigawara's lighting design and lighting operator Thomas Leblanc, which made her arms look like snakeskin – beautiful and enticing at once. Use of lighting to highlight individual characters suspended in darkness highlighted the impossibility of their connection and made the otherwise empty stage appear much fuller.
This reimaging was technically and visually compelling, with one hour seeming to pass in seconds. As Teshigawara and Sato explained in their after-show talk, when you dance you have the power to play with time. The music, costume, lighting and movement all coalesced to create an incredibly fervent and intense piece which should not be missed.
Tristan and Isolde is showing at the Coronet Theatre as part of the Electric Japan 2022 season until 10th June 2022.