Manga, Murder and Mystery - The Boy Detectives of Japan's Lost Generation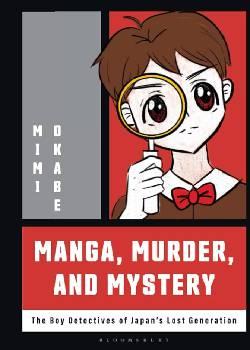 By Okabe Mimi
Bloomsbury Academic (2023)
ISBN-13: 978-1350325098
Review by Laurence Green
---
Speak of "boy detectives" and British readers may call to mind something of a mid-20th century whiff of Enid Blyton - quaint, somehow all so innocent thrills and spills of a particularly youthful nature. Harking back further, there lie the Baker Street Irregulars, street boys employed by none other than Sherlock Holmes as intelligence agents. Suddenly, a whole potential oeuvre of youthful detective fiction beckons, and as Okabe Mimi's exciting new study lays forth, it arguably finds its nexus not only in Britain, but in Japan.
Contextualising the study against a backdrop of the post-bubble economy of late 80s/early 90s Japan - often called the Lost Generation - Okabe sees the trope of the boy detective as a powerful reaction against a creeping social unease that began to arise in Japanese society at the time. Opening with a recounting of many of the most notorious incidents of the period - including the horrific murders and sexual assaults carried out by Miyazaki Tsutomu in the late 90s - we are presented with a portrait of a society coming to terms with a kind of lost innocence.
In this sense, then, the boy detective - as characterised here in detailed studies of its manifestation in Japanese popular culture such as manga and anime - is a tool to construct a convenient playground in which youth, crime, notions of 'good' and 'bad', as well as justice and logic come together in intricate and often tantalisingly powerful combinations. Here, the figure of the boy detective is not merely a fresh-faced successor to the likes of Enid Blyton and Arthur Conan Doyle's protagonists but is also a mirror held up to Japan working its way through various manifestations of socioeconomic malaise and national trauma.
Across its six chapters, Okabe's book offers up a strikingly informative literature review of the history of the detective trope both in regards to boy detectives internationally, but also the crime genre within Japan. This then turns to look at manga specifically in the next chapter, with the works of Osamu Tezuka trailblazing the aesthetic and archetypes many subsequent series would follow. These are epitomised in the focus of the next two chapters, which take Detective Conan (also known as Case Closed) and The Case Files of Young Kindaichi - arguably the two most famous examples of the boy detective trope - as models for analysis; examining how manga might be seen as a crucial response to the failure of Japan's educational system to protect its youth. Here, the values of friendship, community and teamwork are held up and 'reified' as key elements of an idealised boyhood; but crucially, as the study moves on to the 21st century, darker alternatives are also offered. Therefore, in series like Death Note and Moriarty the Patriot, we see more machiavellian values rise to the fore, as protagonists of these series see fit to take justice into their own hands.
The book draws to a close with a final chapter putting forth future angles for investigation - hinting that this study could act as a springboard for a whole further field of research; following the figure of the boy detective further and further into the many manifestations of Japan's expansive popular media mix. An academic tome to its core, Manga, Murder and Mystery is nevertheless a thrillingly accessible read that will delight both fans of its subject matter, as well as those coming to it through a passing interest in Japan in general, or detective fiction as a wider oeuvre. From the likes of Sherlock and Poirot through to the ingenious youths that populate these pages, this book's key takeaway must surely be the universality of the genre. The particular resonance of the stories featured here hold particularly true to Japan's Lost Generation, yes, but just like the cold, clinical logic that lies behind many of those very same cases, the thrill of the mystery is ultimately timeless.