Abroad in Japan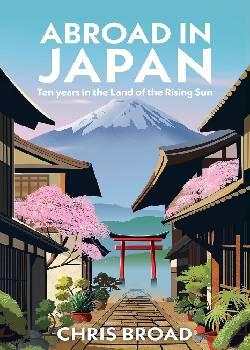 By Chris Broad

Bantam (2023)
ISBN-13: 978-1787637078
Review by Cameron Bassindale
---
In the more than 10 years since he began his rise to Japanese YouTube super stardom, amassing almost 3 million subscribers along the way, Chris Broad of the immensely popular Abroad in Japan channel has made documentaries, appeared on NHK television programmes, and cycled the length of Japan. Now, he has written a book. Abroad in Japan charts Broad's journey through the JET programme, teaching in a high school in a far-flung corner of Tohoku through to the present day, where he educates and entertains his legions of Japan-mad fans. Published by Bantam (Penguin Books) and now on The Sunday Times best-sellers list, readers can expect a considered, interesting, and often hilarious read throughout.
I have had the pleasure of being on this journey with Chris for the past decade, watching his videos go from pixelated rants about Japanese fast food in a tiny tatami room in Sakata to the highly produced, well-polished travel content he produces today. His abilities as a filmmaker and YouTuber are well established, but can he write?
The short answer is a resounding yes. You would be forgiven for thinking the whole book is a transcript of one long Abroad in Japan video, such is the strength of his voice shining through. For people familiar with his work, Broad's quintessentially British jibes and withering self-criticisms are wheeled out in full force and are instantly recognisable. The fact that, as I was reading, I could picture in my head Chris' body language and hear his distinctive home counties accent is a testament to how strongly his personality and joie de vivre is imbued in the book. Readers unfamiliar with Broad's videos will find a narrator who is funny, engaging and refreshingly self-deprecating.
Fortunately, Abroad in Japan is helped along not just by its quirky narration but also by its genuinely bizarre situations. Within the space of a handful of chapters, Broad climbs Mt. Fuji, gives a speech about Family Mart fried chicken to hundreds of (presumably bemused) people and travels around Harajuku looking for a man famous for pushing nine Siamese cats around in a pram. Broad keeps the theme light and frothy for the most part and does not linger too long on any story, being no mean feat in what it is essentially an autobiography.
He does handle the more serious topics with gravity, however. When a student attempts suicide at the start of his second year of teaching, or when he receives a terrifying (false) nuclear missile alarm. I am not surprised, as in Broad's videos he does not shy away from more serious topics, and usually does so with sensitivity. Readers will appreciate Abroad in Japan's brief changes in tone, before Broad inevitably steers the narrative back towards eating, drinking and smoking.
Where the book does fall a little short, I am sad to say, is in its overall goal. I am not entirely sure who it was written for; it tries a little to be all things to all people. I went in with the expectation that it was written for fans of the Abroad in Japan channel. As such, I couldn't help but skip past the bits about how different convenience stores are in Japan, or Broad's sometimes clunky explanations of the Japanese social hierarchical culture. Interesting, for sure, but topics most people familiar with the Abroad in Japan channel, or an interest in Japan at all, have probably come across numerous times. Clumsy phrasing at points (two groups of people fall into a "chorus of snores" in a bus and then a hotel within two pages) gave me the impression that Abroad in Japan would have benefited from more editorial oversight.
All things considered, any issues I found with this book didn't at all impact my enjoyment of it. For a first book, Chris Broad can most certainly hold his head up high. His unromantic descriptions of feeling totally in over your head, riding an emotional rollercoaster everyday will make even the most seasoned Japan "lifer" wistful for the time they first stepped off the plane and into a new world. For those who have yet to live in Japan, or for those who never will, Abroad in Japan is as realistic a depiction of a Brit in modern Japan as you are likely to come across.