Sputnik Sweetheart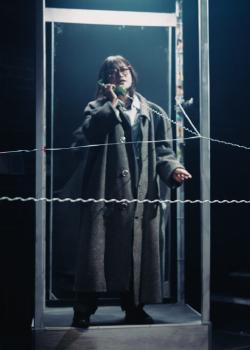 Directed by Melly Still
Adapted by Bryony Lavery

Arcola Theatre (27 October-25 November 2023)
Review by Michael Tsang
---
The latest stage adaptation of Murakami Haruki's novel Sputnik Sweetheart, directed by Melly Still and adapted by Bryony Lavery, demonstrates the malleable power of the theatre as a storytelling medium. Visualisation techniques and a well-designed stage allow this production to shine as a creative rendition of Murakami's love triangle tale.
Sputnik Sweetheart is a love triangle with a twist: boy loves girl, but girl loves girl. K the boy (played by Komatsu Naruto) has feelings for his friend, aspiring writer Sumire (Millicent Wong), but Sumire has eyes for a much older woman, Myu (Kuroda Natsumi). While working for Myu, Sumire disappears on a Greek island one day, and K was summoned to investigate. During the process, he uncovers Myu's secret, a life-changing other-worldly experience that leads K to wonder if Sumire has undergone a similar journey. While in Murakami's novel the ending is more open ended, this production introduces additional dialogue that seems to suggest Sumire does return after a long absence. Like many of Murakami's work, the novel plays on themes of alienation and loneliness, much like the title's allusion to the word sputnik (Russian for 'travelling companion', also the name of Soviet satellites launched in the 1950s) – travelling companions they may be, but they (can) never truly understand each other.
For some, part of Murakami's appeal is the offer of a private, intimate tale that at the same time muses on the fleetingness of relationships. Not benefitting from a big stage, the genius of this production lies in its creative ability to balance out the threat of too much intimacy with various features in set design that indicate distance. These include a secondary stage on a mezzanine, inventive use of animation designed by multimedia artist Obuchi Sonoko and projected on the theatre wall as a supplementary source of visualisation, flexible lighting arrangements that divide actors into zones, and most notably whirling around a phone box containing an extremely long phone cable that is stretched, bent, distorted and wrapped around actors, illustrating the challenge of human communication and contact.
The theatre also liberates a key limitation of Murakami's novel. The novel is told from the perspective of a first-person male narrator, who filters the Sumire-Myu love tale for the reader. In this production, however, every character speaks directly to the audience, and Sumire and Myu both stand out more as individual characters. They have a fair share of their own monologues and drive the story forward as much as K does.
Fans of the novel version may find the personalities of K and Sumire changing too much. Murakami's trademark narrator is soft-speaking and uses the humble-sounding first-person pronoun boku, but in this production K blurts out expletives that sound almost uncharacteristic to a Murakami story. Sumire also sounds a little too confident.
Given how Japan loves to see overseas adaptation of Murakami's works, this production has a lot of promise to be brought to Japan even if it remains to be performed into English. While Komatsu's opening monologue is the only substantial passage in Japanese, future runs of the production can experiment with mixing Japanese and English a bit more, to make full use of the transnational cast. After all, if Komatsu can break character for a second to remind the audience that Kichijoji – where Sumire lives – is like Dalston – where Arcola Theatre is located – in the 1990s, the potential is certainly there for a multilingual, multicultural performance.
---
Members Discount
Japan Society Members are offered a 15% discount on tickets to Sputnik Sweetheart at Arcola Theatre (for all dates and all price bands). Contact our membership team to receive the code. More details on how to become a member here.