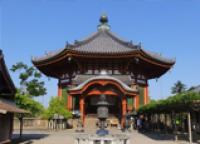 20/07/2020ONLINE EVENT - Performing Memory: Artistic Production & Religious Practice at the Kofukuji Nan'endo
This online talk explores the interplay between memory and materiality, examining the process in which memory of the Northern Fujiwara clan became identified with the Nan'endo at Kofukuji temple.
21/12/2020No Laughing Matter. The Role of the Comedian in Japan – with Till Weingärtner
For several years, Japanese stand-up comedians have also found success on the domestic book market. Benefiting from their popularity and constant presence in the media, publications by comedians-authors often turn into media sensations.