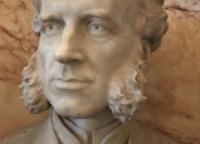 14/11/2020'Singleness of purpose': Sir Harry Parkes, British Minister to Japan, Korea and China, 1865-1885
Sir Harry Parkes is a hate figure in China today and feelings are a little mixed about him in Japan, but nobody can deny the central role he played in the relations between east Asia and the West from the 1850s until the 1880s.
15/12/2020ONLINE LECTURE - No Laughing Matter. The Role of the Comedian in Japan – with Till Weingärtner
For several years, Japanese stand-up comedians have also found success on the domestic book market. Benefiting from their popularity and constant presence in the media, publications by comedians-authors often turn into media sensations.