07/12/2023The Japan Society Christmas Party 2023
This year's Christmas Party will once again be held in the Ballroom of the Japanese Embassy, by courtesy of the Japanese Ambassador. We hope that many members will join us for this festive occasion and to catch up with friends.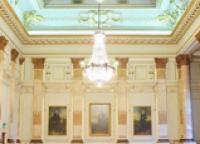 25/01/2024The Japan Society Annual Dinner
Please make a date to join us in the Grand Hall at One Great George Street for The Japan Society Annual Dinner. We are pleased to be able to get together once more and look forward to catching up with members and their guests.