Issue 99 (June 2022, Volume 17, Number 3)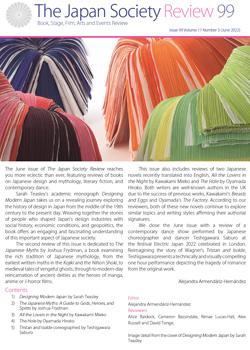 The June issue of The Japan Society Review reaches you more eclectic than ever, featuring reviews of books on Japanese design and mythology, literary fiction, and contemporary dance.
Sarah Teasley's academic monograph Designing Modern Japan takes us on a revealing journey exploring the history of design in Japan from the middle of the 19th century to the present day. Weaving together the stories of people who shaped Japan's design industries with social history, economic conditions, and geopolitics, the book offers an engaging and fascinating understanding of this important aspect of Japanese society.
The second review of this issue is dedicated to The Japanese Myths by Joshua Frydman, a book examining the rich tradition of Japanese mythology, from the earliest written myths in the Kojiki and the Nihon Shoki, to medieval tales of vengeful ghosts, through to modern-day reincarnation of ancient deities as the heroes of manga, anime or J-horror films.
This issue also includes reviews of two Japanese novels recently translated into English, All the Lovers in the Night by Kawakami Mieko and The Hole by Oyamada Hiroko. Both writers are well-known authors in the UK due to the success of previous works, Kawakami's Breasts and Eggs and Oyamada's The Factory. According to our reviewers, both of these new novels continue to explore similar topics and writing styles affirming their authorial signatures.
We close the June issue with a review of a contemporary dance show performed by Japanese choreographer and dancer Teshigawara Saburo at the festival Electric Japan 2022 celebrated in London. Reimagining the story of Wagner's
Tristan and Isolde
, Teshigawara presents a technically and visually compelling one hour performance depicting the tragedy of romance from the original work.
---
Contents
Contributors
Editor
Alejandra Armendariz-Hernandez
Reviewers
Alice Baldock, Cameron Bassindale, Renae Lucas-Hall, Alex Russell and David Tonge.
Image: detail from the cover of Designing Modern Japan by Sarah Teasley.