Become a Reviewer
If you have a keen interest in Japanese literature, cinema, culture and history and would like to share your passion and expertise, contact our editor to become a reviewer for The Japan Society Review. Please let us know a little about you, your profesional or academic background and if  you are interested in writing about books, films or events. If possible, please send us a sample of your previous writing related to Japan o to another relevant topic.
This is a volunteer position, but reviewers will receive a review copy of the book or complimentary tickets for films, plays and events, when possible.
The Japan Society Review
Published on a bimonthly basis since 2006, The Japan Society covers a selection of Japan-related books and films, as well as theatre and stage productions, tv series and exhibitions.
Its purpose is to inform, entertain and encourage readers to explore the works for themselves.
Theatre & Stage
Sputnik Sweetheart
Issues (PDF)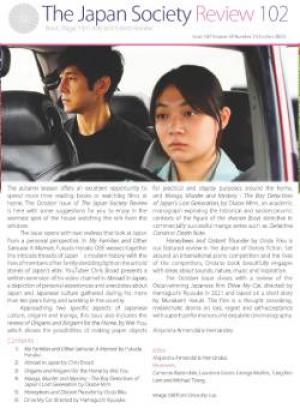 Issue 102 (October 2023, Volume 18, Number 2)