Issue 87 (April 2020, Volume 15, Number 3)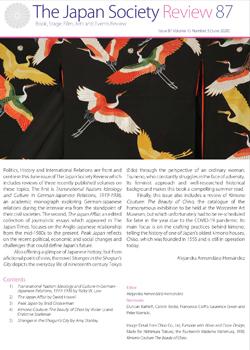 Politics, History and International Relations are front and centre in this June issue of The Japan Society Review which includes reviews of three recently published volumes on these topics. The first is Transnational Nazism: Ideology and Culture in German-Japanese Relations, 1919-1936, an academic monograph exploring German-Japanese relations during the interwar era from the standpoint of their civil societies. The second, The Japan Affair, an edited collection of journalistic essays which appeared in The Japan Times, focuses on the Anglo-Japanese relationship from the mid-1980s to the present. Peak Japan reflects on the recent political, economic and social changes and challenges that could define Japan's future.
Also offering a glimpse of Japanese history, but from a fictional point of view, the novel Stranger in the Shogun's City depicts the everyday life of nineteenth century Tokyo (Edo) through the perspective of an ordinary woman, Tsuneno, who constantly struggles in the face of adversity. Its feminist approach and well-researched historical background makes this book a compelling summer read.
Finally, this issue also includes a review of Kimono Couture: The Beauty of Chiso, the catalogue of the homonymous exhibition to be held at the Worcester Art Museum, but which unfortunately had to be re-scheduled for later in the year due to the COVID-19 pandemic. Its main focus is on the crafting practices behind kimono, telling the history of one of Japan's oldest kimono houses, Chiso, which was founded in 1555 and is still in operation today.
---
Contents
Contributors
Editor
Alejandra Armendariz-Hernandez
Reviewers
Duncan Bartlett, Carolin Becke, Francesco Cioffo, Laurence Green and Peter Kornicki.
Image: Detail from Chiso Co., Ltd, Furisode with Wave and Crane Design, Made for Nishimura Tokuko, the fourteenth Madame Nishimura, 1938, Kimono Couture: The Beauty of Chiso