Issue 94 (August 2021, Volume 16, Number 4)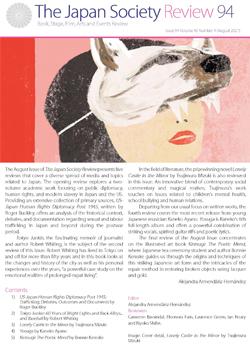 The August issue of The Japan Society Review presents five reviews that cover a diverse spread of media and topics related to Japan. The opening review explores a two-volume academic work focusing on public diplomacy, human rights, and modern slavery in Japan and the US. Providing an extensive collection of primary sources, US-Japan Human Rights Diplomacy Post 1945, written by Roger Buckley, offers an analysis of the historical context, debates, and documentation regarding sexual and labour trafficking in Japan and beyond during the postwar period.
Tokyo Junkie, the fascinating memoir of journalist and author Robert Whiting, is the subject of the second review of this issue. Robert Whiting has lived in Tokyo on and off for more than fifty years and in this book looks at the changes and history of the city as well as his personal experiences over the years, "a powerful case study on the emotional realities of prolonged expat living".
In the field of literature, the prizewinning novel Lonely Castle in the Mirror by Tsujimura Mizuki is also reviewed in this issue. An innovative blend of contemporary social commentary and magical realism, Tsujimura's work touches on issues related to children's mental health, school bullying and human relations.
Departing from our usual focus on written works, the fourth review covers the most recent release from young Japanese musician Kaneko Ayano. Yosuga is Kaneko's 6th full-length album and offers a powerful combination of striking vocals, spirited guitar riffs and poetic lyrics.
The final review of the August issue concentrates on the illustrated art book Kintsugi: The Poetic Mend, where Japanese tea ceremony student and author Bonnie Kemske guides us through the origins and techniques of this striking Japanese art form and the intricacies of the repair method in restoring broken objects using lacquer and gold.
---
Contents
Contributors
Editor
Alejandra Armendariz-Hernandez
Reviewers
Cameron Bassindal, Eleonora Faina, Laurence Green, Ian Neary and Riyoko Shibe.
Cover Image: Cover detail, Lonely Castle in the Mirror by Tsujimura Mizuki.