Issue 86 (April 2020, Volume 15, Number 2)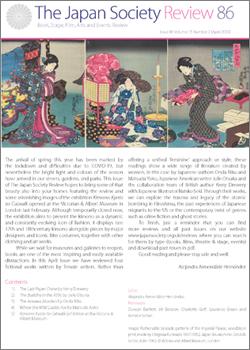 The arrival of spring this year has been marked by the lockdown and difficulties due to COVID-19, but nevertheless the bright light and colours of the season have arrived in our streets, gardens, and parks. This issue of The Japan Society Review hopes to bring some of that beauty also into your homes featuring the review and some astonishing images of the exhibition Kimono: Kyoto to Catwalk opened at the Victorian & Albert Museum in London last February. Although temporarily closed now, the exhibition aims to present the kimono as a dynamic and constantly evolving icon of fashion. It displays rare 17th and 18thcentury kimono alongside pieces by major designers and iconic film costumes, together with other clothing and art works.
While we wait for museums and galleries to reopen, books are one of the most inspiring and easily available distractions. In this April issue we have reviewed four fictional works written by female writers. Rather than offering a unified 'feminine' approach or style, these readings show a wide range of literature created by women, in this case by Japanese authors Onda Riku and Matsuda Yoko, Japanese American writer Julie Otsuka and the collaboration team of British author Kerry Drewery with Japanese illustrator Natsko Seki. Through their works, we can explore the trauma and legacy of the atomic bombing in Hiroshima, the past experiences of Japanese migrants to the US or the contemporary twist of genres such as crime fiction and ghost stories.

Good reading and please stay safe and well.
---
Contents
Contributors
Editor
Alejandra Armendariz-Hernandez
Reviewers
Duncan Bartlett, Jill Dobson, Charlotte Goff, Laurence Green and Azmina Sohail.
Image: Fashionable brocade patterns of the Imperial Palace, woodblock print, made by Utagawa Kunisada, 1847-1852, Japan. Museum no. Circ.636 to Circ. 638– 1962. © Victoria and Albert Museum, London