Issue 91 (February 2021, Volume 16, Number 1)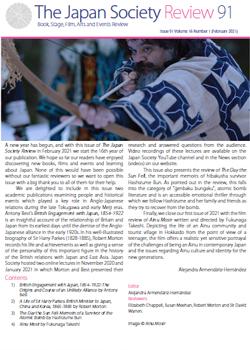 A new year has begun, and with this issue of The Japan Society Review in February 2021 we start the 16th year of our publication. We hope so far our readers have enjoyed discovering new books, films and events and learning about Japan. None of this would have been possible without our fantastic reviewers so we want to open this issue with a big thank you to all of them for their help.
We are delighted to include in this issue two academic publications examining people and historical events which played a key role in Anglo-Japanese relations during the late Tokugawa and early Meiji eras. Antony Best's British Engagement with Japan, 1854–1922 is an insightful account of the relationship of Britain and Japan from its earliest days until the demise of the Anglo-Japanese alliance in the early 1920s. In his well-illustrated biography of Sir Harry Parkes (1828-1885), Robert Morton records his life and achievements as well as giving a sense of the personality of this important figure in the history of the British relations with Japan and East Asia. Japan Society hosted two online lectures in November 2020 and January 2021 in which Morton and Best presented their research and answered questions from the audience. Video recordings of these lectures are available on the Japan Society YouTube channel and in the News section (videos) on our website.
This issue also presents the review of The Day the Sun Fell, the important memoirs of hibakusha survivor Hashizume Bun. As pointed out in the review, this falls into the category of "genbaku bungaku", atomic bomb literature and is an accessible emotional thriller through which we follow Hashizume and her family and friends as they try to recover from the bomb.
Finally, we close our first issue of 2021 with the film review of Ainu Mosir written and directed by Fukunaga Takeshi. Depicting the life of an Ainu community and tourist village in Hokkaido from the point of view of a teenager, the film offers a realistic yet sensitive portrayal of the challenges of being an Ainu in contemporary Japan and the issues regarding Ainu culture and identity for the new generations.
---
Contents
Contributors
Editor
Alejandra Armendariz-Hernandez
Reviewers
Elizabeth Chappell, Susan Meehan, Robert Morton and Sir David Warren.
Image: © Ainu Mosir