Issue 88 (August 2020, Volume 15, Number 4)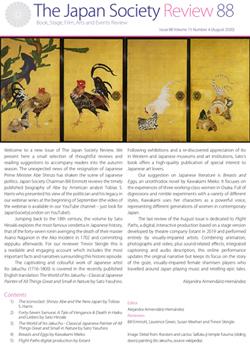 Welcome to a new issue of The Japan Society Review. We present here a small selection of thoughtful reviews and reading suggestions to accompany readers into the autumn season. The unexpected news of the resignation of Japanese Prime Minister Abe Shinzo has shaken the scene of Japanese politics. Japan Society Chairman Bill Emmott reviews the timely published biography of Abe by American analyst Tobias S. Harris who presented his view of the politician and his legacy in our webinar series at the beginning of September (watch the video of the webinar in our YouTube channel).

Jumping back to the 18th century, the volume by Sato Hiroaki explores the most famous vendetta in Japanese history, that of the forty-seven ronin avenging the death of their master Asano Naganori in the Ako incident in 1702 and committing seppuku afterwards. For our reviewer Trevor Skingle this is a readable and engaging account which includes the most important facts and narratives surrounding this historic episode.

The captivating and colourful work of Japanese artist Ito Jakuchu (1716-1800) is covered in the recently published English translation The World of Ito Jakuchu - Classical Japanese Painter of All Things Great and Small in Nature by Sato Yasuhiro. Following exhibitions and a re-discovered appreciation of Ito in Western and Japanese museums and art institutions, Sato's book offers a high-quality publication of special interest to Japanese art lovers.

Our suggestion on Japanese literature is Breasts and Eggs, an unorthodox novel by Kawakami Mieko. It focuses on the experiences of three working-class women in Osaka. Full of digressions and nimble experiments with a variety of different styles, Kawakami uses her characters as a powerful voice, representing different generations of women in contemporary Japan.
The last review of the August issue is dedicated to Flight Paths, a digital, interactive production based on a stage version developed by theatre company Extant in 2019 and performed entirely by visually-impaired artists. Combining animation, photographs and video, plus sound-related effects, integrated captioning and audio description, this online performance updates the original narrative but keeps its focus on the story of the goze, visually-impaired female shamisen players who travelled around Japan playing music and retelling epic tales.
---
Contents
Contributors
Editor
Alejandra Armendariz-Hernandez
Reviewers
Bill Emmott, Laurence Green, Susan Meehan and Trevor Skingle.


Image: Detail from Roosters and cactus. Saifuku-ji temple fusuma (sliding doors) painting (Ito Jakuchu, source: wikipedia).