Issue 92 (April 2021, Volume 16, Number 2)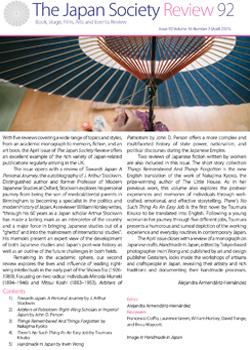 With five reviews covering a wide range of topics and styles, from an academic monograph to memoirs, fiction, and an art book, the April issue of The Japan Society Review offers an excellent example of the rich variety of Japan-related publications regularly arriving in the UK.
The issue opens with a review of Towards Japan: A Personal Journey, the autobiography of J. Arthur Stockwin. Distinguished author and former Professor of Modern Japanese Studies at Oxford, Stockwin explores his personal journey from being the son of medical/dental parents in Birmingham to becoming a specialist in the politics and modern history of Japan. As reviewer William Horsley writes, "through his 60 years as a Japan scholar Arthur Stockwin has made a lasting mark as an interpreter of the country and a major force in bringing Japanese studies out of a "ghetto" and into the mainstream of international studies". His memoirs present an expert view of the development of both Japanese studies and Japan's post-war history as well as an outline of the future challenges in both fields.
Remaining in the academic sphere, our second review explores the lives and influence of leading right-wing intellectuals in the early part of the Showa Era (1926-1989). Focusing on two radical individuals Minoda Muneki (1894–1946) and Mitsui Koshi (1883–1953), Arbiters of Patriotism by John D. Person offers a complex and multifaceted history of state power, nationalism, and political discourses during the Japanese Empire.
Two reviews of Japanese fiction written by women are also included in this issue. The short story collection Things Remembered And Things Forgotten is the new English translation of the work of Nakajima Kyoko, the prize-winning author of The Little House. As in her previous work, this volume also explores the postwar experiences and memories of individuals through well-crafted, emotional, and effective storytelling. There's No Such Thing As An Easy Job is the first novel by Tsumura Kikuko to be translated into English. Following a young woman in her journey through five different jobs, Tsumura presents a humorous and surreal depiction of the working experience and everyday routines in contemporary Japan.
The April issue closes with a review of a monograph on Japanese crafts. Handmade in Japan, edited by Tokyo-based photographer Irwin Wong and published by art and design publisher Gestalten, looks inside the workshops of artisans and craftspeople in Japan, revealing their artistry and rich traditions and documenting their handmade processes.
---
Contents
Contributors
Editor
Alejandra Armendariz-Hernandez
Reviewers
Francesco Cioffo, Laurence Green, William Horsley, David Tonge, and Beau Waycott.
Image: © Handmade in Japan