Issue 102 (October 2023, Volume 18, Number 2)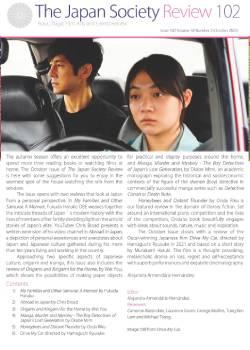 The autumn season offers an excellent opportunity to spend more time reading books or watching films at home. The October issue of The Japan Society Review is here with some suggestions for you to enjoy in the warmest spot of the house watching the rain from the window.
The issue opens with two reviews that look at Japan from a personal perspective. In My Families and Other Samurai: A Memoir, Fukuda Haruko OBE weaves together the intricate threads of Japan´s modern history with the lives of members of her family shedding light on the untold stories of Japan's elite. YouTuber Chris Broad presents a written extension of his video channel in Abroad in Japan, a depiction of personal experiences and anecdotes about Japan and Japanese culture gathered during his more than ten years living and working in the country.

Approaching two specific aspects of Japanese culture, origami and manga, this issue also includes the review of Origami and Kirigami for the Home, by Wei You, which shows the possibilities of making paper objects for practical and display purposes around the home, and Manga, Murder and Mystery - The Boy Detectives of Japan's Lost Generation, by Okabe Mimi, an academic monograph exploring the historical and socioeconomic contexts of the figure of the shonen (boy) detective in commercially successful manga series such as Detective Conan or Death Note.

Honeybees and Distant Thunder by Onda Riku is our featured review in the domain of literary fiction. Set around an international piano competition and the lives of the competitors, Onda'ss book beautifully engages with ideas about sounds, nature, music and inspiration.

The October issue closes with a review of the Oscar-winning Japanese film Drive My Car, directed by Hamaguchi Ryusuke in 2021 and based on a short story by Murakami Haruki. The film is a thought provoking, melancholic drama on loss, regret and self-acceptance with superb performances and exquisite cinematography.
---
Contents
Contributors
Editor
Alejandra Armendariz-Hernandez
Reviewers
Cameron Bassindale, Laurence Green, George Mullins, Tung Ken Lam and Michael Tsang.
Image: Still from Drive My Car.