Issue 98 (April 2022, Volume 17, Number 2)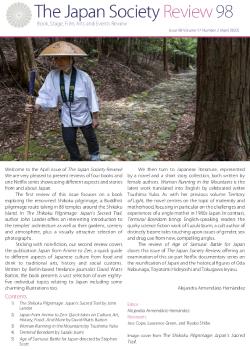 Welcome to the April issue of
The Japan Society Review
! We are very pleased to present reviews of four books and one Netflix series showcasing different aspects and stories from and about Japan.
The first review of this issue focuses on a book exploring the renowned Shikoku pilgrimage, a Buddhist pilgrimage route taking in 88 temples around the Shikoku Island. In The Shikoku Pilgrimage: Japan's Sacred Trail, author John Lander offers an interesting introduction to the temples' architecture as well as their gardens, scenery and atmosphere, plus a visually attractive selection of photographs.
Sticking with non-fiction, our second review covers the publication Japan from Anime to Zen, a quick guide to different aspects of Japanese culture from food and drink to traditional arts, history and social customs. Written by Berlin-based freelance journalist David Watts Barton, the book presents a vast selection of over eighty- five individual topics relating to Japan including some charming illustrations too.
We then turn to Japanese literature, represented by a novel and a short story collection, both written by female authors. Woman Running in the Mountains is the latest work translated into English by celebrated writer Tsushima Yuko. As with her previous volume Territory of Light, the novel centres on the topic of maternity and motherhood, focusing in particular on the challenges and experiences of a single mother in 1980s Japan. In contrast, Terminal Boredom brings English-speaking readers the quirky science fiction work of Suzuki Izumi, a cult author of distinctly bizarre tales touching upon issues of gender, sex and drug use from new, compelling angles.
The review of Age of Samurai: Battle for Japan closes this issue of The Japan Society Review, offering an examination of this six-part Netflix documentary series on the reunification of Japan and the historical figures of Oda Nobunaga, Toyotomi Hideyoshi and Tokugawa Ieyasu.
---
Contents
Contributors
Editor
Alejandra Armendariz-Hernandez
Reviewers
Jess Cope, Laurence Green, and Riyoko Shibe.
Image: cover from The Shikoku Pilgrimage: Japan's Sacred Trail.