Issue 85 (February 2020, Volume 15, Number 1)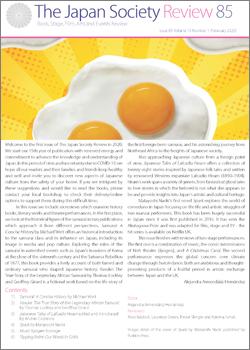 Welcome to the first issue of The Japan Society Review in 2020. We start our 15th year of publication with renewed energy and commitment to advance the knowledge and understanding of Japan. In this period of crisis and uncertainty due to COVID-19, we hope all our readers and their families and friends keep healthy and well and invite you to discover new aspects of Japanese culture from the safety of your home. If you are intrigued by these suggestions and would like to read the books, please contact your local bookshop to check their delivery/online options to support them during this difficult time.

In this issue we include six reviews which examine history books, literary works and theatre performances. In the first place, we look at the historical figure of the samurai in two publications which approach it from different perspectives. Samurai: A Concise History by Michael Wert offers an historical introduction to the samurai class and its influence on Japan, including its image in media and pop culture. Exploring the roles of the samurai in watershed events such as Japan's invasions of Korea at the close of the sixteenth century and the Satsuma Rebellion of 1877, this book provides a lively account of both famed and ordinary samurai who shaped Japanese history. Yasuke: The True Story of the Legendary African Samurai by Thomas Lockley and Geoffrey Girard is a fictional work based on the life story of the first foreign-born samurai, and his astonishing journey from Northeast Africa to the heights of Japanese society.

Also approaching Japanese culture from a foreign point of view, Japanese Tales of Lafcadio Hearn offers a collection of twenty-eight stories inspired by Japanese folk tales and written by renowned Western expatriate Lafcadio Hearn (1850–1904). Hearn's work spans a variety of genres, from fantastical ghost tales to love stories in which the beloved is not what she appears to be and provide insights into Japan's artistic and cultural heritage.

Matayoshi Naoki's first novel Spark explores the world of comedians in Japan focusing on the life and artistic struggles of two manzai performers. This book has been hugely successful in Japan since it was first published in 2016. It has won the Akutagawa Prize and was adapted for film, stage and TV - the hit series is available on Netflix UK.
This issue finishes with reviews of two stage performances. The first one is a combination of music, the comic intermissions of Noh theatre (kyogen), and A Christmas Carol. The second performance expresses the global concern over climate change through butoh dance. Both are ambitious and thought-provoking products of a fruitful period in artistic exchange between Japan and the UK.
---
Contents
Contributors
Editor
Alejandra Armendariz-Hernandez
Reviewers
Alice Baldock, Laurence Green, Trevor Skingle and Azmina Sohail
Image: detail of the cover of Spark by Matayoshi Naoki published by Pushkin Press