Issue 90 (December 2020, Volume 15, Number 6)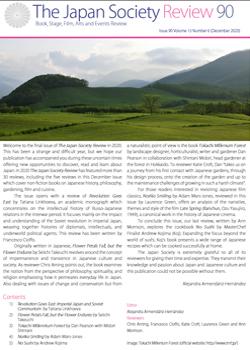 Welcome to the final issue of The Japan Society Review in 2020. This has been a strange and difficult year, but we hope our publication has accompanied you during these uncertain times offering new opportunities to discover, read and learn about Japan. In 2020 The Japan Society Review has featured more than 30 reviews, including the five reviews in this December issue which cover non-fiction books on Japanese history, philosophy, gardening, film and cuisine.
The issue opens with a review of Revolution Goes East by Tatiana Linkhoeva, an academic monograph which concentrates on the intellectual history of Russo-Japanese relations in the interwar period. It focuses mainly on the impact and understanding of the Soviet revolution in imperial Japan, weaving together histories of diplomats, intellectuals, and underworld political agents. This review has been written by Francesco Cioffo.
Originally written in Japanese, Flower Petals Fall, but the Flower Endures by Seiichi Takeuchi revolves around the concept of impermanence and transience in Japanese culture and society. As reviewer Chris Arning points out, the book examines the notion from the perspective of philosophy, spirituality, and religion emphasising how it permeates everyday life in Japan. Also dealing with issues of change and conservation but from a naturalistic point of view is the book Tokachi Millenium Forest by landscape designer, horticulturalist, writer and gardener Dan Pearson in collaboration with Shintani Midori, head gardener at the forest in Hokkaido. To reviewer Katie Croft, Dan "takes us on a journey from his first contact with Japanese gardens, through his design process, onto the creation of the garden and up to the maintenance challenges of growing in such a harsh climate".
For those readers interested in revisiting Japanese film classics, Noriko Smiling by Adam Mars-Jones, reviewed in this issue by Laurence Green, offers an analysis of the narrative, themes and style of the film Late Spring (Banshun, Ozu Yasujiro, 1949), a canonical work in the history of Japanese cinema.
To conclude this issue, our last review, written by Ann Morrison, explores the cookbook No Sushi by MasterChef Finalist Andrew Kojima (Koj). Expanding the focus beyond the world of sushi, Koj's book presents a wide range of Japanese recipes which can be cooked successfully at home.
The Japan Society is extremely grateful to all of its reviewers for giving their time and expertise. They transmit their knowledge and passion about Japan and Japanese culture and this publication could not be possible without them.
---
Contents
Contributors
Editor
Alejandra Armendariz-Hernandez
Reviewers
Chris Arning, Francesco Cioffo, Katie Croft, Laurence Green and Ann Morrison.


Image: Tokachi Millenium Forest (official website)